Au Pair Jobs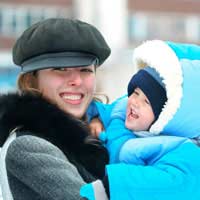 Many gap year travellers, mainly females although more recently males as well, choose to work their way around the world as an au pair to help pay for their expenses. Au pairs live with a host family, and in exchange for their accommodation provide a certain number of hours of childcare and household help per week. Au pairs are often paid a small amount for their duties, and agree upon their working hours and holidays in advance. A variety of organisations exist to help match potential au pairs with host families, and this easy option allows gap year travellers to truly immerse themselves in their host cultures.
Why Explore An Au Pair Job?
Aside from the benefits of free accommodation and pocket money, taking a job as an au pair allows gap year travellers to acquaint themselves with their host families and cultures. Throughout the routine of caring for children and the home, au pairs get to know their local neighbourhoods and cultural customs, something that the average traveller can only experience as a tourist. Successfully working as an au pair also looks well on a CV, and communicates to potential employers that you have developed "soft skills" such as:
Decision making
Responsibility
Relationship building
Team work
Organisation
Problem solving
Communication
Independence
Maturity
What Happens During An Au Pair Job?
Most au pairs obtain a job overseas by using an established agency to help them select a placement. These agencies usually provide training and an idea of what to expect on the job, including; basic childcare such as dressing children, feeding children and bathing children. You will also be expect to do the school runs, entertain the children after school, take them to the after school activities and collect them and finally put them to bed at the end of the day.
As an Au Pair you will also be expected to do some housework althought this may vary from each employer. The housework chores will usually include tasks such as dusting, hoovering, washing dishes, light cooking (usually just for the children) and also general tidying up.
Many agencies also offer advice on what not to expect or tolerate during a job, including:
Being treated like a servant.
Being asked to wear a uniform.
Being asked to complete duties not previously agreed upon.
Being left out of family activities and trips.
Being verbally, physically or sexually harassed.
How Do I Find An Au Pair Job?
Finding an au pair job will be easiest, and safest, if you use an established agency. Prior to selecting an agency, decide on your interests and travel plans, and do not hesitate to ask questions while you are booking. Au pair agencies should make you feel comfortable with your plans, and should never attempt to bully you or force you to take a job. If you do feel pressured, simply tell the agency that you have found work elsewhere. If you want to further investigate an au pair job, contact:
The International Au Pair Association
Au Pair in America
AuPair.com
Au Pair Connect
Au Pair Centre
Easy Au Pair
While it would be nice to think that every au pair job is respectful and successful, this is not always the case. In order to ensure that both the au pair and the host family know their responsibilities, it is recommended that a standard contract be signed before work commences. Au pair jobs generally range from a few months to two years, and experience or certification in childcare may be required to work through certain agencies. For others, enthusiasm and energy are all that are needed. Good luck!
You might also like...
I am an Italian boy I just finished an EVS project are interested in some your projects. how to find out more and send Curriculum Vitae? thanks good day andrea
ribo88
- 5-Aug-13 @ 12:50 PM
Representative of what? Wearing a uniform implies that she or he belongs to something and unless the family all wear a uniform to show they are a unit, it is wholly inappropriate. Wearing a nametag implies that the family are unable to remember each other's names. Having an au pair come to stay is like having your favourite sister's daughter (who live overseas) come to stay. She needs to be treated like your niece, she is not an employee or live in worker. In most countries she has no employment rights as such, but she has rights to be treated an an equal human being and indeed member of your family. It is a cultural learning exchange for both the au pair and family.
I plan to host an au pair girl, what's wrong with uniform (red blouse and black pants for ordinary days, white blouse and black skirt for weekends, and apron above mentioned clothes for dirty work). Hair pulled back in ponytail. Nametag. It makes her look representative.