Teaching Abroad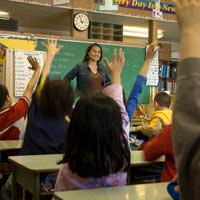 For many students, a gap year is a chance to relax and take some time to think about their futures before committing to a degree course or career. During gap years many students find out their real interests and skills, and none more so than those who choose to teach abroad during this time. Teaching is a demanding profession, and teaching abroad, often to students who speak a foreign language or who must learn without the aid of modern technology, can be a frightening enterprise. Yet those who successfully complete a teaching abroad placement often say that it has changed their lives. Do you have what it takes to successfully teach abroad? There's no better time than a gap year to find out!
Why Explore a Teaching Abroad Placement?
Teaching abroad placements offer students the opportunity to explore a new culture via its educational system. Whether you choose to stay for a few weeks, a few months, or even a few years, teaching abroad offers an insight into local culture that tourists can never fully comprehend. In addition, successfully completing a teaching abroad placement looks impressive on a CV and communicates to potential employers that you have mastered the "soft skills" desirable for any position. Throughout your time teaching abroad you will learn:
Decision making
Patience
Communication
Personal responsibility
Team work
Organisation
Problem solving
Independence
Maturity
What Happens During a Teaching Abroad Programme?
Most gap year travellers obtain a place on a teaching abroad placement through an established agency. These placements may be paid or voluntary, but few require a formal certification or even experience in teaching. Past gap year students have enjoyed themselves:
Teaching conservation classes in South American community centres.
Teaching English in primary schools across Africa.
Teaching sports skills and organising sports leagues throughout Eastern Europe.
Teaching arts and crafts classes at American summer camps.
Teaching skiing classes throughout the winter and sailing classes in the summer.
Teaching life skills to adults with special needs in Europe.
Teaching business English to Asian executives.
How Do I Find A Teaching Abroad Placement?
Securing a teaching abroad placement will be most successful if you work with an established agency. Prior to selecting an agency, decide your interests and your budget, and do not hesitate to ask questions while you are booking. If you are unable to find a placement in a country with which you are interested with one agency, chances are you will be able to find it, or something like it, with another.
If you are interested in teaching abroad in order to obtain a recognised qualification, such as a TEFL certificate, contact the body governing to ensure that you will meet all of their requirements. If you are hoping that teaching abroad may meet requirements for a diploma or degree programme, inquire with the specific college or university to learn about their policies. To further investigate a teaching abroad placement, contact:
Teaching and Projects Abroad
Find A Gap
Gap Work
Real Gap
Back Door Jobs
Teaching abroad is a fulfilling, satisfying way to spend a gap year. Not only are you sharing your skills with others, but developing them at the same time. Potential universities and employers look favourably on successful teaching abroad placements, and you yourself will be impressed with all that you are able to accomplish during your gap year. Good luck!
You might also like...
Dear Author, I'm writing to let you know that I want to participate voluntarily in your institution's work. In this context, I would like to give preliminary information about myself. I have a master's degree in human resources and organizational change. The subject of the thesis is emotional intelligence and communication skills. I worked as a teacher for 8 years. I have a good teacher, a good listener and an open-minded personality. The purpose of my willingness to work within the scope of volunteerism is to see different cultures, learn the language and make us work by using our emotions that make us human. I would like to be evaluated accordingly. Best Wishes ELIF GÜL
elifgul
- 11-Oct-18 @ 4:01 PM