Obtaining a TEFL Certificate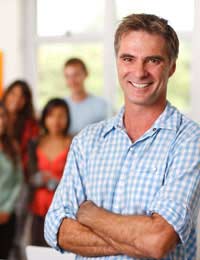 Travellers of all ages have found that teaching is a profession which offers employment options around the world. Native English speakers are in particular demand to help teach language lessons, and obtaining a TEFL certificate is one way for a potential traveller to prove his or her qualifications in this area. To help you learn more about this type of certification we have put together some basic answers to frequently asked questions about TEFL certificates and gap years.
What is a TEFL Certificate?
TEFL stands for "Teaching English as a Foreign Language" and a certificate from a recognised awarding body qualifies the holder to teach English language lessons to non-native speakers both in the United Kingdom and abroad. Awarding bodies may be private language schools, institutes of higher education or even online schools. When you investigate particular TEFL certification programmes check that the awarding body is accredited by a recognised organisation such as Accreditat, an international accreditation body for TEFL providers. This is important to finding the most worthwhile programme possible and ensuring that it is recognised as valid and valuable by potential employers.
What are the Benefits of Obtaining a TEFL Certificate?
Obtaining a TEFL certificate allows employers around the world to quickly and easily assess that you are a trained professional when it comes to teaching English to non-native speakers. Not only may this land you jobs, but it may also allow you to ask for and receive a higher salary than other, non-qualified tutors. Programmes which award TEFL certificates also tend to have information on teaching vacancies and placements abroad which can help you start your job search even while you study for your certification.
What are the Prerequisites for Obtaining a TEFL Certificate?
Pre-requisites for obtaining a TEFL certificate will vary according to the training programme, but in general the only requirement is that participants be at least 16 years of age. There is usually no maximum age limits for participants, no need for university education or a formal degree, and no need for prior teacher training or teaching experience. Non-native English speakers are able to study for a TEFL certificate as well.
How Much Does Obtaining a TEFL Certificate Cost?
The price of a TEFL certification programme will differ based on the type of training (intensive weekend, online, night classes, etc) as well as the organisation providing the training. In general, full certification will cost several hundred pounds. Extra fees for class resources (textbooks, workbooks, audio/visual items, etc), activities and certificates may also be charged.
What Can I Do With a TEFL Certificate?
A TEFL certificate will allow you to teach English language lessons in classrooms around the world, as well as offer private, one-to-one or small group tuition and/or volunteer with literacy and education charities. TEFL certification tends to qualify you to teach adults, though you may be able to teach children with this type of qualification as well. Be aware, however, that employers will set their own required qualifications for positions so a degree or diploma, teaching experience and/or formal TEFL experience may also be required to secure some positions.
Is TEFL Called Something Different In Other Areas?
There are many other terms which signify teaching or learning the English language in addition to the student's own first (or second, third, etc) language. In addition to TEFL you might also encounter the abbreviations and acronyms ELT (English Language Teaching), EFL (English as a Foreign Language), ESOL (English for Speakers of Other Languages), EAL (English as an Additional Language), ESL (English as a Second Language), TESL (Teaching English as a Second Language), TEAL (Teaching English as an Additional Language) and TESOL (Teaching English to Speakers of Other Languages). These titles are often used interchangeably.
Will TEFL Teaching Programmes Help Me Find Employment?
TEFL programmes tend to advertise vacancies for English language teachers and tutors, and some may even offer career guidance, but it is very unusual for teaching programmes to guarantee employment to participants.
Will TEFL Teaching Programmes Help Me With Travel Arrangements?
Most TEFL teaching programmes will not help participants with travel arrangements (flights, visas, accommodations) if they find overseas employment. These details may be handled by the overseas employer or may be left up to the newly hired teacher/tutor.
Where Can I Learn More About Obtaining a TEFL Certificate?
Contacting an TEFL accreditation body such as Accreditat is a good idea for those interested in finding out about programmes in their areas. Online directories of TEFL training programmes are also available.
You might also like...