Working as a Nanny Abroad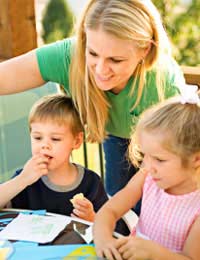 Many gappers find that working as a nanny offers them a great chance to settle into life abroad, get to know a local family and earn some money while they do it. Nanny jobs abroad can be formal, such as those that advertise with international recruitment agencies and sponsor a nanny for requisite visas or work permits, or informal, such as those that simply hire a nanny already in the country and pay cash in hand. Gappers should think very carefully before entering into such an informal agreement for nanny services as working in any form may be against the terms of their entry into a certain country and could land them in trouble with the law.
Advertising Nanny Services Abroad
Gappers who know that they want to work as a nanny abroad may have good luck finding a position by advertising themselves. These travellers should list ads in local newspapers where they would like to work and arrange for their ads to be posted on local notice-boards there. Posting ad online on city-specific websites such as Craigslist and Gumtree may also yield good results. These ads should state relevant facts about the nanny including experience, training and dates of availability, and should also include contact information that does not reveal too much. Setting up an email address specifically for this purpose is often a good way to maintain a professional image without disclosing too many personal details.
Answering Nanny Ads Abroad
Gappers looking for a nanny position abroad should try the same strategy for finding ads: looking in local papers and notice-boards as well as on websites like Craigslist and Gumtree. These methods won't require gappers to pay a recruitment agency or any other form of middleman to help them find nanny jobs. Individuals who do answer such ads should always follow the contact instructions listed in the ad and should always take appropriate safety measures if meeting a family, including meeting in a public place and during working hours if at all possible.
Nanny Jobs Abroad
Gap year travellers who do accept a nanny job abroad should make sure that they are being paid for their efforts (they are not volunteers) and that they are working with a private family as opposed to working in a daycare facility. These nannies should expect a fair wage, good working conditions and appropriate communication and interactions from their employers. If nannies choose to live in with a family then they should be guaranteed a private living space with a door and preferably a lock.
Nanny jobs abroad are options that afford gap year travellers the ability to get to know a local culture and earn money at the same time. Gappers interested in such positions should make clear that they are not looking to volunteer with children or work in a daycare facility but are interested in paid nanny jobs. Gappers should also make certain that their travel documents and entry permits to a certain country allow them to undertake such work and that they will not be in violation of any visas, work permits or other agreements that they have made to enter a particular country.
You might also like...
I like the energy Aupear...bcuz he is good to handle the aplicant, and the steps by step..to procedures hw to aply...is a good to help people he want to work abroad....
JHO
- 21-Aug-14 @ 5:56 PM
Like the rules and regulations
gheeantee sungkur
- 6-Jun-11 @ 4:16 PM