Summer Camps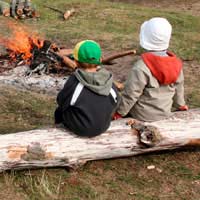 Summer camps are a cultural staple in the United States. American parents send their children to summer camps in order to make new friends, experience a more natural way of life, learn new skills and partake of entertaining and educational activities. These same summer camps offer gap year students incredible opportunities to work as counsellors and meet new people, see new places, have some fun and earn a little money along the way. For a gap year student, working at a summer camp is a great way to kick off a year of international travel.
Why Explore a Job at a Summer Camp?
Aside from the obvious fun of spending a summer in the States in some of the most bucolic settings imaginable, working at a summer camp offers you the opportunity to analyse your interests and skills and think about how you can apply them in your future career. In addition, successfully completing a summer camp job looks impressive on a CV and communicates to potential employers that you have mastered the "soft skills" desirable for any position. Throughout your time working at a summer camp you will learn:
Decision making
Responsibility
Relationship building
Team work
Organisation
Problem solving
Communication
Independence
Maturity
What Happens During a Job at a Summer Camp?
Most students obtain a job at a summer camp through an established agency. A variety of camps exist, from those designed specifically to educate or entertain to those primarily intending to further campers' sporting talents. While daily schedules will vary between summer camps, most will include:
Cleaning the "cabin" with campers.
Eating most meals with campers.
Teaching craft activities.
Coaching sports activities.
Supervising free time.
Organising talent shows, musical and acting performances.
Swimming, trekking, hiking and camping.
Officiating contests between campers and camp teams.
Relaxing with other counsellors.
Creating evening entertainment programmes.
The fabled campfire sing-a-long.
How Do I Find a Job at a Summer Camp?
Securing a job at a summer camp will be easier if you work with an established agency. Prior to selecting an agency, decide your interests and your budget, and do not hesitate to ask questions while you are booking. If you are unable to find a programme in a country that with which you are interested with one agency, chances are you will be able to find it, or something like it, with another.
Summer camps may vary from state to state in America, as well as by purpose. Summer camps may be general or specialised for purposes such as art, theatre, music, a specific sport, academic skills or even for special needs campers. To further investigate a job in a summer camp contact:
GapYear.com
Camp America
Pay Away Summer Camps
Gap Year Jobs
Spending a summer working at a summer camp is an excellent way to see new places, make new friends and learn new skills. If you feel that working at a summer camp might be a great start to your gap year, don't hesitate to investigate your options. Good luck!
You might also like...