A Financial Checklist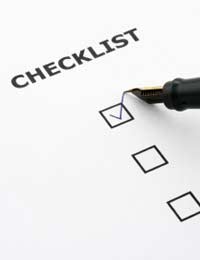 Spending a gap year abroad can be an expensive proposition, but it doesn't have to be. With a little forethought and a lot of planning, gap year bargains abound, but it will take a quick eye to find them and an organised budget to accommodate them.
As you begin to budget for your gap year, remember that at least one unexpected expense will likely pop up during your time abroad, and that leaving extra room in your calculations is always a good idea. To make the most of your money, follow these checklists to help you budget for the gap year of your dreams.
Prepare for the Inevitable
Successful gap years take a great amount of careful planning and preparation. Unfortunately, these expenses can really add up if you are not ready for them. Throughout this time, expect to spend money on:
Organising a new passport.
Applying for visas to your host countries.
Arranging for travel vaccinations and anti-malarial tablets.
Taking out travel and medical insurance.
Purchasing travellers cheques.
Changing money into foreign currency.
Investing in clothes and supplies.
Booking airfares
Booking gap year placements.
Guidebooks.
Fees associated with youth and/or student travel cards, including:
International Student Identity Card (ISIC).
International Youth Travel Card (IYTC).
Inter-Rail Pass.
EuroDomino Youth Pass.
Youth Hostel Association.
Fees associated with deferring a college or university place.
Fees associate with becoming certified by an international organisation.
TEFL teaching, beauty therapy, ski instruction, etc.
An application for a personal loan, if needed.
Living the Life Abroad
While you are abroad, you will incur expenses daily. Many gap year students forget to factor in these necessities, so be sure to budget for accommodation, hostels, hotel rooms, flat shares, bedsits, meals, snacks, travel (taxi, tube train, etc) and the dreaded laundry.
Gap years are all about having fun and experiencing new cultures so don't forgrt to budget for entertainment, films, books, sightseeing, admissions fees, tours or private guides. Of course you will want to contact home so include Internet access, telephone calls, postage, etc, and don't forget to save some cash for souvenirs!
The World Traveller Returns
Many gap year students think that their travels, and expenses, end when they return home. This is possible, but highly unlikely. When you return home, you will most likely need to:
Replace lost, stolen or worn out items.
Print pictures and videos.
Visit your GP for a final check-up.
Repay any personal loans.
A gap year can teach you a lot about yourself, including your own ability to budget and manage your money. To make sure that you get the best start possible, creating a gap year financial checklist is a brilliant way to help you organise your thoughts and create a realistic financial plan for the year.
If you are travelling with friends, encourage them to create a similar document so that you can be sure that you all expect the same things from your trip. If you are travelling as part of an organised gap year placement, ask your agency for any financial information and/or advice they may offer. Though this may seem like a huge headache, you'll appreciate it when you can afford that second fruity drink on the beach! Enjoy!
You might also like...