Paying For Your Trip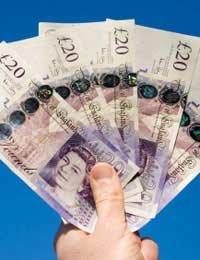 When you are busy making gap year plans money is no object - until it comes time to pay for it all. Some lucky students may already have a gap year fund gaining interest at the bank, but others may never have considered that they'd need a lump sum so early. No matter which camp you fall into, there are multiple options for paying for your gap year and one of them will no doubt get you on your way!
Save, Save, Save
If you want to start your gap year tomorrow, then you're a little late to get aboard the savings boat. But if you are planning ahead, there is still time to make a little money simply from your own money! A savings account is a type of bank account that offers you interest on the money you store there.
Usually you must either pay in a minimum amount each month, or allow your savings to grow for a minimum amount of time. Unfortunately, interest rates will not usually afford you massive amounts of "free" money, but even a small return on your savings can mean the difference between a shared room and a private room in your next hostel!
Fundraise
With the minimum cost of a gap year topping several thousand pounds, it is no wonder that many prospective travellers turn to fundraising to make their dreams into realities. While it is hardly likely that your neighbours will pitch in for you to backpack around the world (although who knows, they might be feeling generous!) there is a good chance that you will find sponsors if you are spending your gap year in the service of others, such as by teaching abroad or joining a conservation effort. To get the ball rolling, consider organising a community event such as a quiz night, raffle, auction or boot sale.
Work Your Way 'Round the World
One easy way to pay for your gap year travels is to pay as you go, literally! By working while you travel you will need much less money at the outset than would be required to arrange for a lump sum of all of your expenses.
The downside to working your way around the world is that you may need more patience while waiting for working holiday visas to come through and you will need to check with a tax professional to make sure that you understand your tax obligations both at home and in your host country. Between applying for visas, consulting professionals and employing an agency to help you find a job abroad, you'll need to stay organised and have cash readily available.
Proceed With Caution When Considering a Loan
If you feel there is no other option but to apply for a loan to cover your gap year expenses, proceed with caution. Investigate all of your options from banks and credit unions, and make sure to take into account interest rates before making your final choice.
Remember that when you return you will likely be facing university fees and associated costs, so it would not be wise to get yourself into debt before this if there is another way to pay for your gap year. Also, if a friend or family member offers you a loan, consider how this may change your relationship and hammer out the terms before you accept any money. A gap year is a great experience, but it won't be worth ruining a personal relationship!
Options abound for paying for your gap year, though some of them may require more work than others. No matter which option you choose, with a little hard work, dedication and creativity, you will soon be sitting pretty on top of a money pile big enough to get you around the world - though hopefully not in only 80 days!
You might also like...