Saving Money While Travelling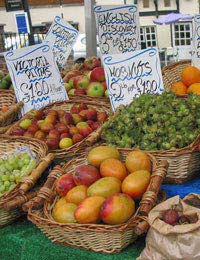 No matter how diligently you budget for your gap year, unexpected expenses will arise. This doesn't mean your plans should flounder, however, because there are ways to counter act these unplanned expenditures by saving money in other areas. Shopping like a local, making smart transportation and accommodation bookings, looking for cut-price offers and taking advantage of tax-back programmes should help you keep more cash in your pocket for when you really need it.
Shop Like A Local
Buying anything around tourist attractions will likely involve a substantial mark-up so make like a local and head to quieter neighbourhoods or recommended markets for more economical items. Groceries, pharmacy and personal care items, even entertainment like books and magazines all tend to be less expensive outside of city centres and away from particular tourist attractions. For even more savings, don't forget to:
Engage in haggling/bargaining when and where appropriate.
Take part in bartering when possible.
Sign up for a shop loyalty/points card if applicable.
Find out if you can shop at an online retailer for greater savings.
See if there are any circulars or other coupons in local publications.
Ask about sales periods or weekly theme days/nights ("Two for Tuesdays", etc).
Investigate return and refund policies, just in case.
Transportation and Accommodation Bookings
If you will be planning the next stages of your gap year as you go, don't forget to make smart transportation and accommodation bookings to save a little more money. Be sure to:
Plan to travel to countries with favourable currency exchanges.
Travel during the low season when deals are more common.
Look for flights with stop-overs to see if they will cost less.
Try to travel mid-week when transportation tends to be less expensive.
Use travel websites to research online transportation and accommodation deals.
Look for accommodation which offers meals, most likely breakfast, with the price.
Go standby on flights if you have the option and can be that flexible.
Cut-Price Offers
Once you've been in an area for a while you will likely come to recognise cut-price offers from local merchants. If you can't figure out if there are sales, ask local residents or even just inquire at the shop or market if you feel that is appropriate. For example you might find:
Salon services marked down on Mondays or Tuesdays (traditionally less busy days).
Meal deals at local restaurants.
Drinks deals at local cafes, restaurants, bars or pubs.
Discounted admission to sites or cultural events with student or youth identification.
"Secret" discounts for those travelling with a particular group or programme.
Offers from particular merchants if accompanied by a coupon from the local press.
"Tourist discounts" for those who can prove they are travelling (ticket, itinerary, etc.)
Tax-Back Programmes
Even if you do splash out on non-essential items during your gap year travels you may be able to avail of tax back programmes to keep a little more money in your pocket. Duty free shopping is by far the easiest method since tax isn't charged to your purchase in the first place. This type of shopping usually takes place in particular shops and comes with stipulations such as limits on the amounts you can purchase, where you are travelling from and to, and the last time you reached your duty free allowance/exemption/maximum. Even if this type of shopping is unavailable, keep your receipts from locally purchased items because you may be able to submit them at the airport when you leave and reclaim tax that way.
A gap year can be an expensive proposition, but there are ways to save money while you travel. Shop like a local, book transportation and accommodation for maximum value, investigate cut-price offers and take advantage of tax-back programmes to save your money for when you'll really need it.
You might also like...