Budgeting For Your Trip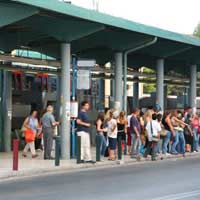 It might seem as though a year off work and school, travelling the world and enjoying the sun, should cost an arm and a leg, but gap years are surprisingly affordable. While not every gap year student will be able to live in luxury, most can meet their basic needs without going deep into debt. Even if you are starting with nothing in the bank, remember that almost anyone can AFFORD a great gap year.
Do Your Gap Year Research
Many students latch onto the idea that gap years are prohibitively expensive and never let it go. In reality, a few simple questions will help you figure out exactly how much you need to budget for the trip of your dreams.
The most likely candidates to interview are gap year agencies and former gappers themselves, so be sure to pick their brains about; the cost of airfare to your chosen country/countries, the availability of an around-the-world ticket and the average cost of accommodation while abroad.You should also ask them about things such as: a reasonable per-day budget for food and internal travel, a reasonable budget for sight-seeing and touring, including admissions fees, the cost of gap year travel and/or medical insurance and the cost of clothing and supplies for a successful gap year.
Forget the Luxuries
Gap year travel can be expensive, particularly if you are unable to forget the luxuries that you enjoy at home. However, if you begin your travels planning only the basics, the cost of a gap year suddenly becomes much more affordable. Remember that budget fees can always be applied to things such as; economy class air and train travel, hostels and budget hotels, student and youth entry to tours and sightseeing venues, and evening meals and organised activities.A great way to keep expenses low is to investigate travel discounts via student and youth travel cards. Depending on your age and educational status, you may be entitled to:
International Student Identity Card (ISIC) - must be a student.
International Youth Travel Card (IYTC) - must be under 26 years of age.
Inter-Rail Pass - cheapest if you are under 26 years of age.
EuroDomino Youth Pass - must be under 25 years of age.
Youth Hostel Association - cheapest if you are under 26 years of age.
Fundraise for Your Trip
No one says you have to afford your gap year all on your own! If you are hoping to embark on a gap year placement that serves others, whether by teaching, coaching, building or some other means, your family and friends may well be amenable to donating for your trip. Consider putting together a few fundraising activities such as: table quizzes, raffles, auctions, jumble sales and soliciting direct donations
Organise
The sooner you get organised about your gap year, the more affordable it will be. Early bird bookings may mean that you get a discount on airfare or the price of a gap year placement, and you won't be disappointed if they sell out early.
Get Recommendations from Former Gappers
One of the best ways to find budget travel tips is to ask former gappers for recommendations. Hostels and restaurants are particular subjects for which everyone has recommendations, and the sooner you can book in for them the better off you will be. When asking for recommendations, be sure to mention what time of year you will be travelling as seasonal discounts may make a difference.
Draw Up a Plan
When you have finished all of your investigations, draw up a gap year plan. Make sure to include: the countries you would like to visit, the expected cost of airfare and internal travel, the expected cost of accommodations and food and the cost of any placement or programme you would like to work with.By drawing up a travel plan, you will be in a better position to estimate the entire cost of your gap year. If you keep your travel arrangements simple, investigate student and youth travel discounts, and pump gap year veterans for their recommendations, you will no doubt be able to AFFORD the gap year of your dreams. Enjoy!
You might also like...