Avoid Being a Victim of Mugging or Theft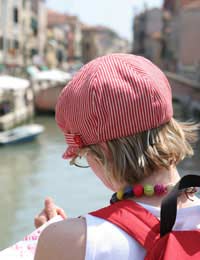 Muggings and thefts are unwanted adventures during travels abroad, and unfortunately they don't always occur at night, when you are alone and travelling down a dark, unfamiliar alley. If this were the case then they could be easily avoided! In reality, muggings and thefts can occur at any time, in any setting, when you are alone or in a crowd. But with a few simple precautions, you can lower your risk of becoming a victim and protect you valuables, which will make for a far less frustrating trip.
Protect Your Possessions
While we all enjoy the convenience that gadgets bring to our lives - everything from iPods that keep us entertained to credit cards that help us make purchases - we are often lax in protecting them. When you are travelling, the number one way to protect your possessions is to simply keep your eye on them. Pay attention to where your possessions are and you are far more likely to notice when they have been tampered with or gone missing.
While you are travelling, remember to keep your money out of sight, possibly in a money belt or zipped up in a purse or wallet in a secure bag. Keep your passport, travel and medical documentation with you at all times, these are valuable documents so make sure you know exactly where they are. Leave valuable jewellery and larger electronics, such as a laptop, at home, personal electronics such as a mobile phone or iPod (which you will more than likely have on you) should be tucked away out of sight. Never advertise your possessions, if you are texting someone try not to do it walking down the street as opportunistic thieves could easily snatch it out of your hand, equally do not become distracted while texting or listening to music as again this will attract would be thieves.
Lock your bike/car when not in use and do not leave any valuables in view. Use the hotel or hostel safe as needed, but do be cautious if others are using it too. When leaving your passport, money, credit cards or travel documentation in a safe, keep them in a closed envelope and sign your name across the flap as this will alert you to any tampering that may occur in your absence.
Avoid Becoming a Victim
When you are travelling, it is easy to become disoriented in unfamiliar surroundings. Knowing about your location will help you travel more confidently and with less hesitation. In order to avoid becoming a victim on your travels it pays to do a little research and reading up on crime and safety in the region before you travel is a great place to start.
An Easy safety aspect to overlook is emergency telephone numbers, do you know the emergency number for the country you are visiting? If not make a note of them before you leave. Remain aware of your surrounding (even by carrying a map) at all times, if you look lost and confused you will become an easier target for thieves.
There are many ways to protect yourself while travelling and below are a few more tips to remember:
Do not carry large amounts of cash, and do not carry it all in one place.
Wear your backpack or handbag in front of you in crowded areas.
Change money only at registered venues.
Shield the screen when you using ATM machines for quick cash.
Do not "flash the cash" or advertise your possessions.
Only travel in registered taxis and busses.
Keep a copy of your passport information page in the hotel/hostel safe.
Do not wander the streets after a few drinks.
If you feel you are being followed, walk to a well lit, crowded area.
Walk confidently.
Never be afraid to ask for help.
Emergencies Abroad
If, even after you've taken every precaution, you still find yourself the victim of a theft or mugging abroad, remember to:
Alert the local police.
Inform your bank.
Cancel your credit/debit cards.
File a claim with your insurance company.
Get in touch with loved ones at home if you need money or documents.
Speak with your embassy for additional advice.
Thefts and muggings are a disturbingly common occurrence while travelling abroad. With a few precautions, you can protect your possessions during your next trip and avoid becoming a victim!
You might also like...
PLEASE HELP! I love your website and will be traveling and staying for a while in different countries. I'm british and am going on a Gap year. My problem is I can't decided on what insurance to get for my laptop!! I have an expensive apple macbook pro that I can't live without. I have looked at those online comparison sites and every one gives each bad reviews. I can't find one insurance that covers walk in theft, and extended stays abroad cover more than 31 days (if I stay longer but not a priorty) Non of the travel insruance cover items more than £700 AHHHH is the only thing I can say. Im not getting home contents insurance as I will be practicaly homeless whilst traveling before I go to university, don't have parents both past away to use their insurance. What insurance do you have and I know your not a Broker but I have had to postpone my travels as I can't get this sorted. Any advice or an insurance company that covers walk in theft and extended travel abroad would really help. I can't be the only one struggling with this, places like Protectyour bubble don't cover walk in theft so as I'm staying friends on and off I wont have a hostel locker to keep them in. Thank you
cat
- 20-Feb-12 @ 5:12 PM