Being Jailed Abroad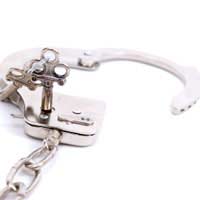 Being jailed abroad is probably not part of your travel plans right now, but being put in prison could happen while you are abroad. If the worst does happen, stay calm, contact the nearest embassy or consulate and get advice from a local solicitor.
Stay Calm
Mistakes happen when you travel and while being jailed abroad can not be considered a fun experience, it may not be the end of the world either. If you are taken to prison, stay calm. Arguing with officials, putting up physical resistance, yelling, refusing food or drink or generally making a nuisance of yourself is not likely to help your case any. In fact, in some countries reports of inappropriate behaviour in prison could even hurt your case.
Instead, ask calmly to speak with your nearest embassy or consulate. If you are allowed near other prisoners and find some to be of your same nationality you may wish to ask them about how to proceed. However, take anything said by someone else with a grain of salt. No two cases are alike and it's highly unlikely that another person in jail is a solicitor in that country so they should not be treated as experts nor their advice taken unquestioned.
Contact the Nearest Embassy or Consulate
As you travel make sure that you always keep the contact details of your nearest embassy or consulate on your person. This will come in handy in case of smaller emergencies, such as being mugged or losing a passport, but it becomes much more important for emergencies such as being jailed while abroad.
Your nearest embassy or consulate can send a staff member to visit you in prison and they will be able to give you information on local solicitors, local laws and to inform your family at home of your current situation. A member of diplomatic staff can not get your out of jail, but they can help you while you are in it.
Get Advice from a Local Solicitor
The only experts you should trust regarding your case and the reasons you have been jailed abroad are local solicitors. These professionals will be able to give you advice about why you are in prison, what should be your next step and what to expect in the future.
Unfortunately, if you travel to remote areas or to areas not used to having foreigners around, there may be a language barrier between you and your solicitor. Asking for a translator, and for either professional to be of the same gender as you, should not be a problem. The embassy or consulate staff member that you are in contact with should be able to help you find an acceptable translator as well.
Being jailed abroad is not usually on a gapper's travel schedule but it could happen. If you find yourself jailed while travelling abroad remember to stay calm, contact your nearest embassy or consulate and get advice from a local solicitor about how best to proceed.
You might also like...