Staying Safe in the Sun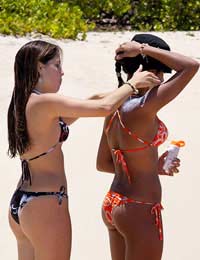 Chances are you're gap year plans will include destinations slightly more sunny than the United Kingdom. But whether you'll be in the sun on the ski slopes or the seashore, the sun safety routine you should follow will be the same.
In fact, even if you're just out strolling on a cloudy day you should be conscious of your sun safety choices. Don't let clouds or temperatures fool you - sun safety should become a way of life that you remember every day.
Slip, Slop, Slap
Since 1981 Australians have followed a sun safety campaign that advises them to slip on a shirt, slop on some sunscreen and slap on a hat. By simply following these three directions, the rates of skin cancer have decreased across Australia.
Sometimes added to this list are two more reminders: to seek shade and slide on some sunglasses when out in the sun. Unfortunately it is often teenagers and young adults who disregard this message, usually in an attempt to get a golden tan, and end up burned and at risk for developing skin problems and cancers in later life.
Remember, leathery skin is never cute. Try to bring some light coloured cotton shirts (long sleeve and short sleeve) to have with you at all times, a hat with a brim wide enough to shade your face, at least two tubes of sunscreen and a pair of sunglasses that offer UV protection.
Stay Hydrated
Whether you're working or playing in the sun, you'll need to remember to stay well hydrated. If you don't drink enough water you run the risk of dehydration and illnesses such as sun or heat stroke and heat exhaustion.
In general it is best to drink water so that you never feel thirsty, because thirst is a sign that you are already dehydrating. Standard wisdom says that adults need about 8 glasses of water per day when they aren't working in the sun, so try to drink a glass or bottle of water every hour if you are spending your days outside.
To truly know that you are a well hydrated, look for pale coloured urine when you use the bathroom. If it darkens at all you'll know you need to drink more water. Other signs of dehydration include a dry mouth and dry lips, muscle cramps, feeling dizzy or light headed and/or nausea.
Treating Sun-Related Illnesses
It's likely that you'll get a sunburn on your gap year travels, but usually it only takes one case to get you to remember your sun safety routine. Just make sure to stay out of the sun, bathe the skin in cool water and applying a moisturising cream. However if blisters develop you'll want to see a doctor. Avoid touching or popping these blisters as an infection could easily result.
If you suffer from dehydration do your best to get re-hydrated, and if you fall victim to heat/sun stroke or heat exhaustion you'll want to see a doctor as soon as possible. If you are in an area where medical care is limited, consider calling your embassy to get a list of English-speaking medical staff that are close to your current location.
Sun safety is an often over-looked part of gap year travels. Practice sun safety from the first day of your trip and hopefully heat and sun related complications will be kept to a minimum.
You might also like...