Keeping in Touch on Your Travels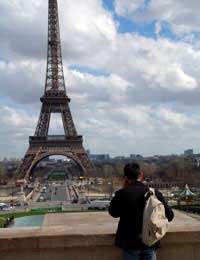 In this day and age, even if you are travelling to the most far flung corners of the Earth, staying in touch with family and friends at home is still feasible. With more options than ever before, it is now your choice whether you want to hold long distance phone conversations, write old fashioned love letters, or just check in with a quick e-mail. Whatever you decide, remember that those at home will want to know not just what you are doing, but how you are doing as well. Save a few colourful anecdotes for each, and your correspondence will soon be in high demand!
Flexible Phone Calls
Let family and friends know that you are thinking of them in the most personal way possible - with your own voice! The miles will melt away when you hear the sounds of home, but make sure to investigate cost effective options so you can talk for as long, or as often, as you like. Popular options include:
Reverse charge calls. Otherwise known as calling collect, these conversations are initiated by calling the operator and having him/her ask the party you are calling if they will accept the charges. The benefit for you is that you end up paying no money, but the charges are high for those at the other end. You'll probably want to save these for emergencies only.
Mobile phones. If you splash out on a mobile that works around the world, be warned that the calling charges will be high and some networks may even charge the receiver for the minutes they talk to you. Investigate the cost of text messaging as well since this is often a cheaper alternative.
Calling cards. Buying prepaid calling cards is a great way to keep a lid on your budget. These cards come in prepaid denominations (usually corresponding to £5, £10 or £20) and come equipped with a local number through which you make your long distance call. Keep a calling card with you at all times and you'll be ready for anything your trip throws at you.
Super Snail Mail
Make like your ancestors and keep in touch with home via the post. From long letters to cute cards to perky postcards, there are many ways to let everyone know you are thinking of them.
Postcards. Your friends will thank you for sending them a picture postcard to brighten their day, and not only will you have to scrawl just a few lines but they are cheap to buy and even cheaper to send. A winner all around!
Cards. Whether hand made or store bought, cards let you write a bit and enclose any photos or other documents you desire. Browse markets and stores for a bit of local colour.
Air letters. Inquire at local post offices if air letters are available. These thin sheets are incredibly economical as the cost of postage is included.
Letters. From airmail to registered, there are a variety of options for the safety and speed of your post. Often standard postage stamps can be bought at local markets, newsagents and at train and bus stations, but if you require further options you will want to check in with the postal service in your host country.
Excellent Electronic Options
If immediate communication is more your style, then nothing beats a quick e-mail. Hostels often offer free Internet access from which you can access a web-based e-mail account, and Internet cafes usually offer a student or young persons' rate to help you save some money.
Web-based e-mail. Gmail, Yahoo and Hotmail are very popular web-based e-mail accounts that you can access from any Internet application.
Address books. Use the address book of your e-mail account to save time. Simply type in the name of the person you wish to email and their address will be ready and waiting.
E-cards. Many websites offer free e-cards for you to send as needed. These come in particularly handy for birthdays and holidays. American card company Hallmark offers a wide range.
Mobile phone accounts. Some mobile phone providers offer free online tie-ins, such as a number of free texts from their Internet site. Investigate your options for when you are away.
Internet telephony. Many applications such as Skype and other voice over Internet protocols act like a telephone you can access via the Internet. As long as you have an account and a microphone on your computer, you can "call" others via their computer or telephone. The cost of these calls is much less than using traditional telephone companies.
Whatever your travel itinerary, communication options today are varied and flexible. Save up your best stories, invest in a few cards, and lick a few stamps - it's that easy to let everyone know you are thinking of them.
You might also like...
Here's another thing, too, Missy9012: Hitchhiking has always been especially unsafe here in the United States as a whole, due to the fact that the overall atmosphere in our society and culture, generally, is such that people often take liberty and license to act utterly vicious and nasty to each other.
mplo
- 20-Feb-17 @ 1:13 AM
@ Missy9012: You've made some very good points about the horrors that occur here in the United States to day.Hitchhiking is no exception.I beg to differ in one respect, however:Many, if not most of the horrific incidents related to hitchhiking or picking up hitchhikers do not even make the papers or the evening news.That's a big part of the problem.
mplo
- 22-Dec-16 @ 10:21 PM
@mlpo and I <3 Pugs - people shouldn't hitchike as it is dangerous - it's not an adventure and it is foolhardy to think it is safe in this day and age. There are plenty more mad people about these days - you only have to read the news at the awful stuff that goes on which would put a person off even going outside there front door never mind getting into a stranger's car. If the government put a ban on picking up hitchers or hitching that would solve the problem, easy.
Missy9012
- 7-Dec-16 @ 2:35 PM
Sure, people hitchhike, because they're looking for adventure or comaraderie or whatever, but if one hitchhikes, they get into a car accident and they either get killed or seriously injured, what the hell kind of adventure or camaraderie is that?
mplo
- 3-Dec-16 @ 1:12 PM
To Great Gap Years: I haven't hitchhiked since to early to mid-1970's, and I'm better off for it.When people respond with a non-sequitur such as"You're more likely to get raped, murdered or assaulted by a family member or friend.", or"The household I came from was more dangerous than being picked up by a stranger on the road." don't seem to understand that the reason that hitchhiking-related crimes are rare is because so few people hitchhike or pick up hitchhikers these days, and it's for a good reason.Frankly, I don't see how any electronic technology (i. e. smartphones, etc.,) of today would do anybody a world of good if they did get into trouble, either through hitchhiking or picking up a hitchhiker.I just think that getting into a car with a complete stranger or picking up a complete stranger is far riskier than other risks, and I wouldn't go that far these days.
mplo
- 8-Nov-16 @ 1:08 AM
To l>3pugs: The UK is far different than here in the United States, where, contrary to what many, if not most people here in the United States may say or think, hitchhiking or picking up hitchhikers here in the United States has NEVERbeen a safe idea.
mplo
- 8-Nov-16 @ 12:06 AM
@mplo - it's not so bad in the UK! I think we are safer here.
I<3pugs
- 4-Nov-16 @ 1:40 PM