Nutrition and Health While Travelling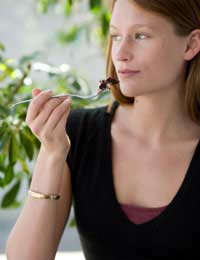 Everyone knows that in order to remain healthy it's important to eat right, but this can be hard enough to do at home where you know how things are cooked, you know what the ingredients are, and you know which meals and snacks offer you the best value for money.
When you are travelling and don't have access to your own kitchen, much less foods and meals with which you are comfortable, ensuring proper nutrition can be a downright trial. Don't let travelling put off your eating and make you unwell. Read up on proper nutrition and be prepared to make this a priority while you travel.
Healthy Eating
According the British Nutrition Foundation, healthy eating is based on a diet full of breads, potatoes and cereals as well as rich in fruits and vegetables. Milk and dairy, fish and meats should be included in moderate amounts, and small amounts of fats and sugars are necessary in any healthy eating plan as well.
Remember, this rich mix is necessary to get all of the nutrients needed for good health. In order to ensure that you get a good mix, follow the British Nutrition Foundation's recipe for healthy eating.
Eat foods that you enjoy, strive to eat many different foods, eat only as much as you need to maintain a healthy weight, eat foods rich in starch and fibre, concentrate on eating fruits and vegetables, cut down on fatty foods, rarely eat foods (and drinks) that contain a lot of sugar and only drink alcohol in moderate amounts. These common sense tips are portable, so bring them on the road when you leave for your gap year.
Healthy Weight
A gap year lifestyle tends to be more active than what you may have been used to as a student. This is particularly true of travellers who are involved in sports placements or in humanitarian placements and are engaged in activities such as construction. In fact, a lot of gap year travellers find that they lose weight while they are so active and while getting fit is great, you need to make sure that you remain at a healthy weight throughout.
Don't worry if you don't have access to weighing scales, there are other methods of making sure that you stay at a healthy weight throughout your travels. To begin with, make sure you eat when you are hungry - don't wait until you're ravenous and everyone can hear your stomach growling.
Also, continue eating until you are full. Eat slowly and check in after a plate of food. If it has taken you at least 20 minutes to finish your meal and you still feel that you are hungry, have another serving.
Sometimes thirst can be mistaken for hunger, so have a full glass of water when you begin to feel a little empty and see if that works for you. Also, energy levels can be a great indicator of whether or not you are eating enough. If you start to feel tired or flagging, chances are you need to top up with a snack. Fresh fruits and vegetables as well as cereals and whole grains are always good options for a little pick-me-up.
Ensuring proper nutrition on a gap year can be hard, but maintaining healthy eating and a healthy weight will practically guarantee that you get to see and do all that you have planned. See your doctor for more information on these topics before you leave, and always seek medical attention if you feel ill while travelling.
You might also like...