Getting a Medical Appointment Abroad in Your Gap Year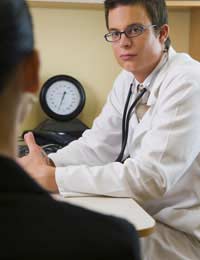 Falling ill while abroad is no fun, and at the worst of times it can be a highly stressful experience. But getting a medical appointment abroad in your gap year doesn't have to be an ordeal. Arrange for proper travel insurance, make sure you keep all of your pertinent documents organised at all times, know where to find information on local doctors and hospitals and equip yourself with use medical vocabulary. Like with many aspects of travelling, hope for the best but prepare for the worst and any medical appointments you need abroad during your gap year should go very smoothly.
Arrange for Proper Travel Insurance
Many gappers figure they can save a little bit of money by foregoing travel insurance, but this is a bad idea. Not only do you need travel insurance in the event of cancelled flights, lost luggage or other frustrations but you need to make sure that your insurance also includes medical and/or emergency cover. If you have a pre-existing condition such as a chronic illness then you also might need a separate insurance policy to cover treatments or appointments for these conditions.
If you are unfamiliar with insurance documents and coverage, make sure to have someone with more experience help you select a policy and review all documents before you sign them. By arranging for proper travel and/or medical insurance you can help ensure that should an emergency or even a slight health issue occur you'll be able to better access and afford medical care abroad. It may even be the difference in being allowed to see certain doctors or attending certain hospitals. If you are planning to travel within the European Economic Area then also look into the free European Health Insurance Card (EHIC) which entitles bearers to free or reduced-cost emergency medical care.
Organise Pertinent Documents
In addition to keeping all of your insurance documents organised while you travel, make sure that you keep your travel documents in order and up to date and always have your passport and visas ready should you need to provide proof of identity or legal status within your host country.
If you already have medical conditions or pharmaceutical needs, bring documents from the medical personnel treating you at home so that any medical professionals in your host country will have a quick summary of your medical history. If you'll need to get a local prescription while you are abroad, see if your GP or consultant at home can call someone in your host country to arrange for this. Also, try to travel with a medical card and/or medical identification bracelet so that in the event of an emergency you'll at least have these items with you at all times.
Find Information on Doctors and Hospitals
Before you leave home you can access information on doctors and hospitals in the countries to which you will travel simply by looking through the websites of the British embassies in those countries. If you need more information or information on specific aspects of a the medical system such as making an appointment or filling a prescription, consider contacting the embassy directly or looking in travel guides or guides aimed at expats.
These books will also likely contain information on local medical systems, doctors and hospitals and gappers who have travelled within these countries may also have information or advice. Websites aimed at expats in certain countries or cities may also have information about local medical systems and personnel, but remember that forums and chat sites often include only the opinions of individuals rather than unbiased information. If nothing else, be sure to find out the local emergency telephone numbers for the cities and countries you will visit so that you can keep them handy wherever you go.
Learn Basic Medical Vocabulary
Even if you are travelling to another English-speaking country be sure to learn a bit of the local medical vocabulary before you travel. Drugs may be called by different names in different countries, aspects of a medical system may be referred to in different terms and basic medical jargon such as procedures or home care directions may employ different terminology so the more you can explore before you need to in the event of a health concern the better equipped you will be to deal with that concern. If you are travelling to a country in which you will be speaking a foreign language, make sure you learn vocabulary for medical terms as well as descriptive terms that might be able to help in medical circumstances such as "shooting" "dull" or "throbbing" pain.
Getting a medical appointment abroad during your gap year, and making the most of this medical care, will depend on careful preparation. Arranging for proper travel insurance, organising pertinent documents, finding information on doctors and hospitals and learning basic medical vocabulary are all steps that gap year travellers can take to protect their health while abroad.
You might also like...