First Aid and Kit For Travelling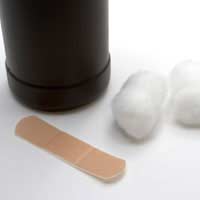 It might seem like a scaredy cat staple, but in reality you'll find a first aid kit in any experienced traveller's backpack - especially the most adventurous ones! Depending on where you are travelling, a first aid kit could range from a couple of aspirin and some plasters for a Parisian weekend to an array of anti-malarial tablets for an Indian itinerary. Use common sense and solicit your GP's advice for the contents of your pack based on the areas you will be visiting, and don't even think about off loading your kit to make room for another pair of sandals. It may seem like an overstatement, but you'll never know when your first aid kit might just save your life!
Prepare for Healthy Travelling
Before you begin your gap year there are many ways you can prepare for healthy travelling. Visit your GP or local travel clinic to find out if you need to arrange for immunisations against: Cholera, Diphtheria, Hepatitis A , Hepatitis B, Japanese encephalitis, Malaria, Meningitis, Polio, Typhoid and Yellow Fever.
Also consider attending a first aid class to hone your skills, and build up your natural defences with a diet rich in:
Bread, cereal or potatoes.
5 different fruits and vegetables per day.
2 - 3 servings of milk or dairy per day.
Meat, chicken and/or fish.
At least six glasses of water per day.
Create a First Aid Kit for Travelling
There are many portable or travel kits on the market that you can simply purchase and throw in your bag, but the best way to ensure that your kit contains everything you will need for your gap year is to create it yourself. To begin, select a hardback container with a sturdy clasp to keep everything inside in order. Make sure that your chosen container has room to store:
Prescription medication that is within its "use by" date, hand sanitizer or wipes, aspirin, ibuprofen or acetaminophen, decongestant tablets and nasal spray, cough medicine, anti-diarrhoeal medicine, antihistamine tablets, antacid, antiseptic wound and blister ointment, plasters and gauze and motion-sickness medication.
You Should also include:
Insect repellent, sunscreen, digital thermometer, tweezers, scissors, safety pins, needle, tissues, toilet paper, sanitary pads or tampons, condoms, first aid manual, torch and a whistle.
Please note that anything sharp such as, scissors, safety pins, needles and even tweezers need to be packed into your suitcase and not your hand luggage. If these items were found in your hand luggage they would be taken off you.
First Aid Extras
There are other health supplies you will want to carry with you while you travel, but it is best to keep them separate from your first aid kit. Don't forget to pack:
Your immunisation certificates.
Your travel and medical insurance information, including contact numbers.
Claims forms for your travel and medical insurance.
Glasses and contact lenses.
Information on your prescription medicines and lenses.
Travelling abroad will bring you into all sorts of new adventures and environments, and it is likely that at some point during your journey you will be longing for an aspirin, plaster or even tissue that you recognise. Packing a first aid kit for travelling will guarantee that you have what you want, when you want it. Good luck!
You might also like...