The Importance of Proper Hydration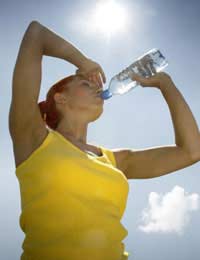 Our bodies need water to live. Every single cell is thirsty for water at all times and without water it is only a matter of hours before health deteriorates and a few short days before death will occur. Ensuring proper hydration can be tough enough when we are at home and in a comfortable routine, but while travelling it can be a trial to ensure proper hydration. Though it may take extra effort, staying hydrated is essential for all travellers.
Optimal Hydration
The British Dietetic Association recommends that an average of 2.5 litres of water be consumed each day with at least 1.8 litres (at least six glasses of water per day) obtained from beverages. The other amounts may be obtained from foods such as fruits and vegetables.
If such levels of plain water seem unappealing, some of the 1.8 litres could be taken from natural fruit juices and/or herbal teas. Excessive tea, coffee, alcoholic beverages and fizzy drinks should be avoided, however, as they can act as diuretics and actually work to dehydrate the body.
However, if you are in a significantly hotter environment or engaging in a great amount of activity (sport, construction, etc.) then you'll need to drink more water to replace the fluid you lose through sweat. To determine if you are well hydrated, inspect the colour of your urine. Clear or pale urine indicates that you are consuming enough water, while darker urine indicates that you need to drink more.
Drinking Water Abroad
Many areas of the world do not enjoy the luxury of clean drinking water on demand. India, Africa, Asia and Southeast Asia, Central and South America as well as Russia and former satellite nations do not necessarily have clean tap water, and this tap water is referred to as "non-potable". This means that the water has not been treated to remove harmful elements such as diseases, infectious agents, an excess of minerals and more.
If tap water is non-potable, or if you are not sure if the tap water is safe, avoid it. Do not drink this water, use it for washing your teeth, make ice with it, use it to mix powdered drinks or use it to wash fruits or vegetables.
Also avoid drinking beverages served with ice cubes or eating fruits or vegetables (including prepared salads) that you are not certain have not been rinsed with tap water. Instead, stick with bottled or boiled water. If you do choose to boil your own water, remember to use only sterilised containers for boiling and storing and allow the water to boil for at least 5 minutes.
Dealing with Dehydration
When you do not hydrate well enough you run the risk of dehydration, though this state can also come about if you are sick and lose fluid through vomiting or diarrhoea. Some indicators of dehydration include feelings of dizziness and/or being light-headed, having a dry mouth, expelling less urine or expelling dark urine.
If you feel any of these indicators, attempt to re-hydrate immediately. If you still feel as though you may be dehydrated after drinking more water, see a doctor immediately. Mild cases of dehydration can usually be corrected on your own, but more severe cases may require more than just drinking water to correct.
You might also like...