Sexual Health Issues Abroad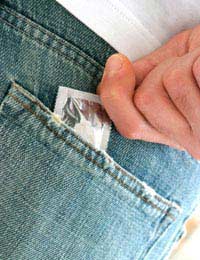 If your gap year itinerary includes a few to-be-determined romantic rendezvous, make sure that you don't bring home a sexually transmitted infection as a souvenir. Casual sex on holiday may seem like fun at the time, but discovering warts, sores, and lice, or waiting for test results, certainly isn't.
Make sure to protect yourself regardless of what your partner says or does, and don't be afraid to call a halt to any activity that you feel puts you at risk. Have fun on your gap year, but be smart, be safe, and don't compromise your health for the sake of one night - or hour!
Sexually Transmitted Infections
Sexually transmitted infections are more commonly referred to as STIs. You may have heard of these previously as STDs, or sexually transmitted diseases, but while the name has changed the damage remains the same. STIs may be bacterial (caused by bacteria), viral (caused by a virus) or parasitic (caused by a parasite) in nature. STIs often transmitted during sexual encounters abroad include:
Chlamydia (bacterial)
Genital Warts (viral)
Gonorrhea (bacterial)
Hepatitis B & C (viral)
Herpes (viral)
HIV & AIDS (viral)
Pelvic Inflammatory Disease (bacterial)
Syphilis (bacterial) -
Trichomonas (parasitic)
Vaginitis (bacterial)
Preventing Sexually Transmitted Infections
The only 100% safe way to prevent an STI is to refrain from sexual intercourse of any kind. If this isn't an option for you, there are a variety of safer sex methods that limit contact with bodily fluids. These options include engaging in lower risk behaviours such as kissing, massage or masturbation. If you do engage in sexual intercourse always use a condom during vaginal, anal and oral sex. There is also the option of using a dental dam during oral sex and a female condom during vaginal sex - you could also use spermicide with a male or female condom. It is always advisable to discourage contact with any warts, sores or discharges.
Remember to bring condoms from home for your travels, as foreign brands may be of lesser strength or quality, and there is always the chance that they are old or have been kept in compromising conditions. Women taking contraceptive pills or patches you should also bring a supply from home as these are prescription medications and would require a prescription from a local doctor to fill while abroad.
Treating Sexually Transmitted Infections
If the worst does happen and you find yourself with an STI while abroad, don't panic. STIs are treatable, provided you begin treatment as soon as possible, and the most uncomfortable symptoms can usually be cleared up fairly quickly. If you notice, or feel, anything unusual after having sex see a doctor immediately, but calm yourself with the knowledge that:
Chlamydia can be treated with antibiotics.
Genital warts can be treated with lotions or "frozen off" with liquid nitrogen, but no cure yet exists to prevent relapses.
Gonorrhea can be treated with antibiotics.
Hepatitis B & C can be treated with tablets or injections, but there is no cure yet so these will have life-long consequences.
Herpes can be treated with antiviral medication, though there is no cure yet so outbreaks will continue to occur throughout your life.
HIV & AIDS can be treated with a cocktail of antiviral medications, though no cure has been found yet.
Pelvic Inflammatory Disease can be treated with antibiotics.
Syphilis can be treated with a single jab.
Trichomonas can be treated with antiparasitics and antibiotics.
Vaginitis can be treated with tablets and antibiotics.
There's little doubt that contracting an STI would cast a long shadow on your gap year fun in the sun, but this doesn't have to be the case. Leave for your gap year prepared for sexual encounters by packing condoms, spermicides and prescription contraceptives, and take part only in safer sex activities. When you return from your travels, investigate STI tests just to be on the safe side since some STIs may not even cause symptoms. Be aware of the risks before engaging in any activity, and always be prepared to stop if you feel uncomfortable. Be safe and have fun!
You might also like...