Living in a Dormitory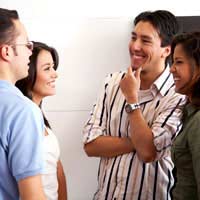 Depending upon where you go and what you do during your gap year you'll likely find yourself living in any number of different accommodations.
Gappers who join a voluntary or education programme may well find themselves living in a dormitory. For people used to having their own room, this can be an eye-opening experience. To stay safe and healthy make sure to protect your valuables, keep your personal care items to yourself, store your perishables properly and make a few friends along the way.
Protect Your Valuables
Gappers who live in dormitories generally feel pretty safe, often because the only people living in the dormitories are other students or travellers on the same programmes. However, using common sense when it comes to protecting your valuables is still a good idea.
Be sure to carry photo ID with you at all times and don't be afraid to ask around if there is someone inside that you don't recognise. Don't hold doors open for strangers or otherwise let them in if you don't know who they are, and make sure to get yourself inside before established curfew hours (if there are any) to avoid being locked out. Unless you've been directed otherwise, try to keep your passport and wallet/purse on you at all times.
Ask if there is a safe available for your use, or otherwise lock all small electronics and travel documents in your locker when you are outside of the hostel. Try not to keep cash in your belongings, and don't give out combinations to your private locks.
Keep Your Personal Care Items to Yourself
Dormitories are all about communal living, but this lack of privacy often invites germs. A great way to protect yourself from these germs is to keep your personal care items to yourself. Sharing shampoo is fine, but don't share your deodorant, toothbrush, hair brush, prescription medicines, inhalers or even allergy medicine.
Anything that touches your body or requires a doctor's prescription should not become group property. Also, don't share your towels or wash cloths and wear flip-flops in the showers. If others are free with their personal care items that's fine, but don't let them pressure you into doing the same - just tell them that you've been ill and that should keep them from swiping your stuff!
Store Your Perishables Properly
Rarely do dormitories come equipped with a high-tech kitchen or even broken-down microwave to warm your food in. Rather than starve, many residents simply keep packaged food with their belongings. If this food is individually wrapped and does not require refrigeration then that should be fine, but if you have "loose" food or anything that may become perishable in warmer temperatures then you should not be keeping it in the dormitory.
Such food invites bugs and pests, can rot and begin to smell, and may even make you sick if you decide to eat it. Ask about food regulations when you get to the dormitory, and then be sure to follow them during your stay.
Make a Few Friends
Don't think that dormitory living is all about protecting your property and staying away from others. Nothing could be further from the truth! When you are living with others you tend to become fairly friendly anyway, but make an effort to get to know those living with you. It may turn out that you have a lot in common or that you have nothing in common but could learn a lot from each other. You'll never know until you strike up a conversation.
You might also like...