Couch Surfing During Your Gap Year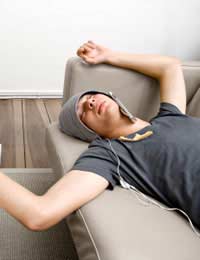 Couch surfing, also known as sofa surfing, is a low-cost means of finding accommodation while you travel. Couch surfing isn't always well understood, so before you decide if this is something you'd like to try out make sure you have the answers to these frequently asked questions about this untraditional method of travel.
What Is Couch Surfing?
"Couch surfing" is a modern term to describe staying on someone's couch. You might get lucky and score your own guest room, or you might get unlucky and find a spot on the floor, but in general couch surfing describes staying in a private home. Those who couch surf should always be ready for rather basic accommodation, really just a sleeping space and the chance to use the bathroom. Food and access to the kitchen are not always included in an invitation to couch surf in someone's home.
What Are the Benefits of Couch Surfing?
Couch surfing has many benefits. You get to stay in a private home and make new friends as well as experience everyday life in a new location. The more you couch surf, the wider your network of international friends will become. If you're lucky you'll get to participate in family meals and possibly even activities. Hopefully your hosts will also give you inside information about your location which can save you time, money and stress as you travel, and they may even let you use items like their telephone or Internet connection. At its best, couch surfing is low cost, less stressful and more personal than more traditional types of travel accommodation.
Are There Any Concerns Associated with Couch Surfing?
Couch surfing does allow travellers to choose to stay with total strangers so there can be some safety concerns and most times only those over the age of 18 are allowed to participate. Similarly, travellers will be staying in new environments which do not necessarily meet the same health and safety codes as accommodation options designed for the general public. Something as simple as staying with a host who has a cat when you are allergic could adversely effect your experience. Also, the security of a host's home may not be of the same standard of other accommodation options so your personal possessions and peace of mind could be adversely effected as well.
What is the Cost of Couch Surfing?
Couch surfing is often free, though there can be associated costs depending on your own preferences and the requirements of your host. Some hosts won't accept any money for any reason, not even to help pitch in with groceries or to cover local telephone calls, while others are more than happy for you to bring them a small gift or pick up the tab for a pizza dinner. To make sure you stay within your budget, research the cost of shared hostel rooms in the same area and set aside a similar amount of money for each day of your couch surfing adventure. Also be aware that most couch surfing hosts also couch surf themselves so there may be the expectation of reciprocity should they travel to your home area in the future.
Where Can I Find Out More About Couch Surfing?
Couch surfing is sometimes described as a lifestyle, so recommendations from those who have already participated are invaluable for building up your own network of contacts. Online sites also cater to those interested in couch surfing. Servas, Hospitality Club and The CouchSurfing Project are probably the three most well-known, well-respected organisations catering to travellers and hosts.
You might also like...