Travelling by Bus or Coach Abroad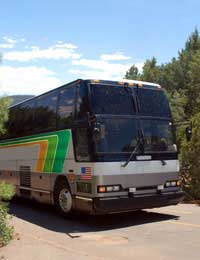 Buses and coaches are a fantastic way for gap year travellers to cover a lot of ground while spending just a little bit of money. Most countries run a national bus or coach service, and large cities often run their own services as well. Tourism sites for your host country should be able to offer more information on rates, schedules and routes, but regardless of where you are travelling some aspects of travelling by bus or coach, including safety, comfort and dealing with motion sickness, remain the same no matter what comes next on your itinerary.
Bus and Coach Safety
Bus and coach safety is really a two-pronged subject as it is important to analyse both the safety of your vehicle, route and driver as well as your personal safety while on board. To make sure you feel comfortable with a bus service investigate the national or governing body of the service, the standard of the vehicle, the requirements and training for drivers, and travel advisories for the areas on your bus or coach route.If you deem a bus or coach service safe enough to travel with, there are several steps you can take to ensure your personal safety while onboard.
Look for a seat near the front rather than standing in the aisle.
Use a seat belt if one is provided.
Stow your luggage under the bus or coach, or in the designated racks.
Keep your passport and wallet/purse on your person.
Keep your travel documents and valuables in your daypack at your seat.
Loop the straps of you your daypack around your legs if you stow it under your seat.
Keep bottled water and a nutritious snack with you on long rides.
Do not leave your bags unattended.
Do not supervise bags for strangers.
Comfort on the Bus or Coach
Unfortunately even the most luxurious of luxury coaches will not truly provide comfort if you are on a long journey. To make the best of a cramped situation, be sure to; wear loose, layed clothing that can shift with you and will keep you covered, try to find a seat near the window if you are interested in sleeping so that you can lay your head against the pane.
Make sure that you keep cool water and a small snack with you at all times, bring sunglasses if it is a bright day, bring your own iPod or mp3 player to help you relax and if needed take motion sickness medication if you are inclined to feel sick on long rides.
Dealing With Motion Sickness on a Bus or Coach
Motion sickness occurs when the body's sensory perceptions are thrown off and as a result the brain becomes confused. Over 90% of the population will suffer from motion sickness at some time, and long, stuffy bus or coach journeys are a prime time for a bout of motion sickness to hit.
Symptoms of motion sickness often include; nausea and vomiting, dizziness and sleepiness, headaches, grey or green complexion, clamminess and also sweating.While there is little to be done to prevent motion sickness, many travellers find that certain actions help, including:
Long, slow breathes.
Sipping water.
Laying a cool, wet cloth across the neck or wrists.
Putting away all books and magazines.
Wearing special wristbands.
Asking your chemist for over the counter medication.
Asking your GP for motion sickness patches to wear behind the ear.
Buses and coaches vary by country, but for the most part all of them provide a cheap and safe method of travel for gap year adventurers. Some buses and coaches may allow tickets to be purchased in advance or over the Internet, but always prepare to arrive early for your intended route. Good luck!
You might also like...