Travelling by Train on Your Gap Year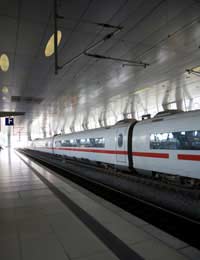 Travelling by train often brings up mixed emotions. Some find trains to bring a dollop of old fashioned glamour to their travels, while others think of them as outdated and would only climb aboard if it was their last option. Regardless of your personal views on trains, they may just be the perfect compromise for transportation during your gap year abroad. Cheaper than a plane ticket, and more comfortable than a bus, trains are a great option for gap year travellers. Follow these helpful hints to make travelling by train on your gap year a breeze.
Booking a Train Ticket
Train and rail services are often run by a national governing body so for more information visit the tourism sites for your host countries. Rail and train agencies often offer tremendous discounts for youth travellers. See if you can save some cash by flashing an:
International Student Identity Card (ISIC) - must be a student.
International Youth Travel Card (IYTC) - must be under 26 years of age.
Youth Hostel Association - cheapest if you are under 26 years of age.
Safety on the Train
Train safety not only depends upon the safety of the train itself, but that of the conductor and route as well. If you feel hesitant about the safety of a train service, investigate the national or governing body of the service, the company profile and history, the service standard of your train, the requirements and training for conductors and the travel advisories for the areas on travel route.If you do feel comfortable with any given rail or train service, then by all means climb aboard! Keep yourself and your possessions safe while travelling via train by: selecting a seat rather than standing in the aisles, sitting near other passengers, and towards the front of the train, stowing your luggage only in the designated racks, never leave your bags unattended and never surpervise bags for strangers.
It is important that you keep your passport and wallet/purse on your person at all times and your travel documents and valuables in your daypack at your seat. Keep bottled water and a nutritious snack with you on long rides, avoid moving between carriages while the train is in motion and only exit the train when it has come to a complete stop.
Comfort on the Train
Long or even overnight travel on a train may make for some uncomfortable moments.
Do your best to stay comfortable by wearing loose clothing that can shift with you and will keep you covered, it is also a good idea to wear layers, so that you can adjust along with the temperature. Try and find a seat near the window if you are interested in sleeping or if you have long legs or need to stand frequently try to find an aisle seat.
Keep cool water and a small snack with you at all times, bring sunglasses if it is a bright day and bring you iPod or mp3 player along fro the ride.
Dealing With Motion Sickness on the Train
Motion sickness occurs when the body's sensory perceptions are thrown off and as a result the brain becomes confused. Over 90% of the population will suffer from motion sickness at some time. Symptoms of motion sickness include:
Nausea and vomiting.
Dizziness and sleepiness.
Headaches.
Grey or green complexion.
Clamminess.
Sweating.
While there is little to be done to prevent motion sickness, many travellers find that certain actions help, including:
Long, slow breathes.
Sipping water.
Laying a cool, wet cloth across the neck or wrists.
Putting away all books and magazines.
Wearing special wristbands.
Asking your chemist for over the counter medication.
Asking your GP for motion sickness patches to wear behind the ear.
Travelling by train on you gap year is a great option. Not only will you get to experience a part of your host country's culture, but you'll get a glimpse at the countryside and a relatively comfortable ride while you're at it. To learn more about a specific train service, check with you travel agent or the official tourism site for your host country. Good luck!
You might also like...