Travelling by Car Abroad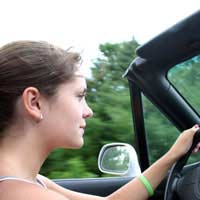 Travelling by car abroad is a great way to take control of your trip and master your own destiny, but private car hire can be both costly and time consuming. Even if you leave for your gap year with a full, clean driving license, many private car hire companies will not rent their fleet to those under the age of 26, or at the very least 21.
If you can find a company who will rent to you, make sure to factor in the extra costs for insurance and petrol, as well as toll fees, transport costs such as via ferries, and possible emergency repairs. The same goes for buying a car abroad, with the addition of legal costs for both buying and selling the vehicle. Travelling by car abroad is an endeavour that may just provide you with the itinerary of your choosing, but requires responsibility and forethought to be successful.
Car Safety
True car safety depends upon the safety of the vehicle, the safety of the driver and the safety of the route you will be travelling. For your peace of mind, investigate the company profile of your car hire agency, the service standard of your vehicle and the owner's manual of your vehicle.
Safety aspects such as the availability of seatbelts and airbags in your vehicle is something you must remember to check. Check the driving record of your designated driver and never let them drive the car if they have consumed alcohol. Buy maps and atlases of your intended route and research them thoroughly so you know exactly which roads to take.
If you are satisfied with the safety of your vehicle, driver and route, there are further steps you can take to ensure your personal safety while travelling by car abroad.
Such steps include using a seat belt if one is provided, asking that child safety locks be turned off, keeping your passport and wallet/purse on your person, keeping your travel documents and valuables in your daypack at your seat and stow all luggage in the boot of the car, or tucked securely under seats.
Car Comfort
Unfortunately, long journeys by car can become tedious and uncomfortable. To make the most of your travels, be sure to wear loose clothing that can shift with you and will keep you covered, wear layers, so that you can adjust along with the temperature, keep cool water and a small snack with you at all times, bring sunglasses if it is a bright day, bring your own iPod or mp3 player to help you relax and take motion sickness medication if you are inclined to feel sick on long rides.
Dealing With Motion Sickness in the Car
Motion sickness occurs when the body's sensory perceptions are thrown off and as a result the brain becomes confused. Over 90% of the population will suffer from motion sickness at some time, and long car journeys can often bring on a bout of motion sickness. Symptoms of motion sickness include:
Nausea and vomiting.
Dizziness and sleepiness.
Headaches.
Grey or green complexion.
Clamminess.
Sweating.
Many travellers find some relief from motion sickness by:
Taking long, slow breathes.
Sipping water.
Laying a cool, wet cloth across the neck or wrists.
Putting away all books and magazines.
Wearing special wristbands.
Taking over the counter medication recommended by the chemist.
Wearing motion sickness patches behind their ears as prescribed by their GP.
While travelling by private car abroad can be a more expensive option, it also allows you to plan your own schedule and make sure you see every site on your itinerary. If you are thinking of travelling by private car abroad, be sure to mention this when booking your travel insurance. Good luck!
You might also like...