Investing in a Bicycle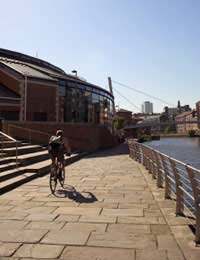 Many gap year travellers find that they need to get around during their travels but renting a car is not an option and public transportation does not necessarily go where they want to go.
An easy, affordable remedy to this problem is to invest in a bicycle. Particularly travellers who are staying in one place for a little while, such as during a voluntary placement, will find that bicycles are cheap, require little maintenance and will allow them to quickly travel wherever they need. For these reasons investing in a bicycle is usually a very good idea for interested gappers.
Selecting a New Bicycle
If you have the luxury of selecting a bicycle from a well-stocked shop then there are three factors you need to take into account for each bike you look at: cost, weight and durability. To begin with, the cost of a bicycle should not blow your budget. Work out how much you have to spend without compromising in other areas such as your food budget or money needed to pay for phone or Internet time. Once you know your number, be honest about this price to the sales person and stick to it ruthlessly.
Next, find out which bike weight is best for you. Serious bike enthusiasts may know the weight of bikes down to grams or ounces, but this would probably be overkill and just an extra worry for those buying a bike for a gap year. For you, just remember to be comfortable with the bike weight. Don't be pushed into buying something ultra-sleek, but also don't get stuck with something so bulky that it becomes impractical.
Finally, the durability of your bike will be important. Explain to the salesperson what you want the bike for, the terrain it will likely cover and how often you will use it. Remember that both the bike frame and tires should be suited to these uses. Only when you feel happy with all three variables, price, weight and durability, should you invest in a new bicycle.
Buying a Used Bicycle
Unfortunately, by the time many gap year travellers realise that they would need or like a bicycle they are well away from areas boasting bicycle shops. For these travellers buying a used bicycle could be the only option. While this means that the choice is much less, purchasing a used bicycle generally means the cost will be much less.
While you may not be in much position to demand things when buying a used bike, remember that at the very least any bicycle you consider should be safe. Metal parts should not be broken or rusty, tires should still have some tread and be properly inflated and the seat should appear to have some padding and/or springs. If possible, find out if bicycles are generally locked when not in use and see if you can arrange for a lock to be included in the deal.
Regardless of where you can buy a bike or how many you have to choose from, sometimes any bike is better than no bike at all. Use common sense when considering buying a new or used bicycle and know your own bottom line. If a bicycle will truly enrich your life while on your gap year then it may be best to purchase whatever is handy and make the most of it.
You might also like...