Travelling to South East Asia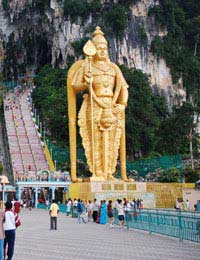 The smell of sandalwood, the sound of the surf, the sight of sari silk - Southeast Asia is truly a feast for the senses. It's also a feast for con artists, pickpockets, drug pushers and assorted germs and bacteria that prey on unsuspecting tourists and gap year travellers. If you are considering travelling to Southeast Asia, plan well ahead to make the most of your travel time and prepare contingency plans for any unplanned adventures. Then gather your passport, slide on your backpack and get ready for the time of your life!
Southeast Asia: A Geography Primer
Southeast Asia is a haven for backpackers because it is a relatively small region that packs in a variety of geographical features. From mountains to valleys, rivers to bays, rice paddies to skyscrapers, you can see it all in Southeast Asia. To avoid confusion in this densely packed area, remember that Southeast Asia is made up of:
Myanmar/Burma
Cambodia
Lao People's Democratic Republic/Laos
Thailand
Vietnam
Brunei
East Timor
Indonesia
The Philippines
Malaysia
Singapore
Failing to Prepare is Preparing to Fail
Just like with any exam, unexpected consequences can pop up when you fail to properly prepare for your gap year travels. Before you head off to Southeast Asia, make sure you have some good guidebooks and have spoken to people who have been there perviously who can give you personal recommendations that you trust. Before you leave you must make sure you have hepatitis, rabies and typhoid vaccinations as well as anti-malarial tablets you should also ensure you have enough of any perscribed medication that you need.
It is recommended that you obtain any embassy information in, and warnings for, the regions you plan to visit. It is also a good idea to registering your itinerary with embassies in the regions you plan to visit. When travelling to South East Asia you will need to pack some sturdy boots, layers of clothes, a backpack and bedroll. Look into student travel cards and offers that may save you money.
Visas will often be needed for entry into:
Cambodia
Indonesia
Vietnam
Lao PDR/Laos
Myanmar/Burma
Creating an Itinerary
Southeast Asia experiences rainy and dry seasons, which means that the best time to travel is usually November through February when it is cooler and drier than other months. Weather does vary between countries however, so it is unlikely that you will totally escape the monsoons and suffocating heat - but these are just part of the experience!
Another thing to consider when you are creating your travel itinerary is the festivals that occur throughout the region. Make sure you include at least one of the following in your plans:
Chinese New Year in Singapore - January/February
Dragon Boat Races in Lao PDR/Laos - October
Thaipusam in Singapore and Malaysia - January/February
Songkran in Thailand - April
Deepavali/Diwali in Singapore and Malaysia - November
Securing Souvenirs
If you leave a little room in your backpack, Southeast Asia can be a shopper's paradise for meaningful souvenirs. Have a browse around and pick up some local treasures such as; silk and precious stones in Thailand, batik and pewter in Malaysia, woodcarvings and silver in Indonesia and Myanmar/Burma and laquerware in Vietnam and Myanmar/Burma.
Volunteer for a Good Cause
If you're looking for more than just a shopping extravaganza on your travels, consider volunteering for any number of good causes during your gap year.
Staying Safe in Southeast Asia
Much like travelling anywhere, travelling to Southeast Asia requires keeping your wits about you and avoiding trouble. Keep your valuables locked at your hotel or hostel, leave jewellery and other easily stolen items at home, and keep your wallet/camera/passport on your person at all times. Never watch bags or carry items for strangers, alert authorities to suspicious behaviour, and never travel alone to secluded outposts. Keep in contact with family and friends at all times, keep up with local news, and avoid expressing inflammatory political opinions in public. Use you head, stay safe, and have fun!
Whether you are planning for a few weeks, a few months or the whole year, gap year travels in Southeast Asia will be memories you take with you for the rest of your life. As with any travels abroad, remember to respect the political, social and religious mores of your host country and to act and dress in an appropriate manner at all times. Bon voyage!
You might also like...