Travelling to Australia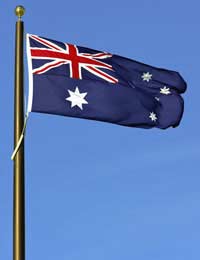 From Bondi Beach to the Outback, Australia has long been a top destination for gap year travel. With such a great amount of land, and encompassing such different geographical environments, Australia has something to offer everyone.
Outdoor and extreme sports, environmental conservation and becoming certified to scuba dive are just a few of the options on offer during a gap year in Australia. If you think you might like to travel "down under" during your gap year, then start planning now because spaces on structured programmes go faster than you can say "G'day, mate!"
Australian Geography
Australia is a large landmass, with a handful of smaller dependent islands, between the Indian and South Pacific Oceans. Its total size is only slightly smaller than the United States of America, and similar to that of Europe. Full of sun, sand and wide open spaces, Australia is actually the smallest continent in the world, but the sixth largest country!
The capital of Australia is Canberra, and for administrative purposes the country is divided into six states and two territories, including:
New South Wales
Queensland
South Australia
Tasmania
Victoria
Western Australia
Australian Capital Territory
Northern Territory
Preparing for an Australian Adventure
While Australians themselves are known for their laid-back lifestyle, don't throw out your own checklists just yet. Before you travel you will need to obtain guidebooks and travel recommendations, hepatitis, rabies and typhoid vaccinations, as well as tetanus and measles boosters, needed prescriptions for the length of time that you will be away and you will need to apply for a Working Visa or Visitor Visa to enter Australia.
You should also register your itinerary with the British High Commission in Canberra, in case of an emergency.
Investing in sturdy boots, swimsuits, layers of clothes, a backpack and bedroll are all a must before you leave for your trip, as is budgeting for travel and adventure and collecting student/youth travel cards and offers that may save you money.
Create an Itinerary
Not only is an itinerary necessary for your own safety - so that family, friends and the High Commission will know where you are, or are supposed to be, at any given time - an itinerary is also a great way to plot out your points of interest and come up with a more efficient travel schedule. Many gap year travellers in Australia opt to:
Visit Ayers Rock "near" Alice Springs.
Investigate the Daintree Rainforest, one of the oldest rainforests on Earth.
Sail to the Whitsunday Islands from the coast of Queensland.
Snorkel and/or scuba dive at the Great Barrier Reef.
Learn to surf at Bondi Beach.
Walk atop the Sydney Harbour Bridge.
Another way to experience Australia is to work, study or volunteer during your gap year.
Staying Safe in Australia
While Australia is not a particularly dangerous country for gap year students, it is always smart to follow general safety guidelines while travelling. Keep your valuables locked at your hotel or hostel, leave jewellery and other easily stolen items at home, and keep your wallet/purse on your person at all times. Never watch bags or carry items for strangers, alert authorities to suspicious behaviour, and never travel alone to secluded spots. Always listen to experienced guides if entering unfamiliar environments, particularly the Outback, and keep in contact with family and friends at all times. Good luck!
You might also like...
hey, I did not understand how to apply for the projects ?
maia
- 2-Dec-14 @ 12:53 PM