Travelling to South America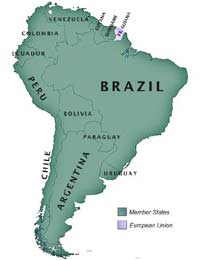 South America is a backpacker's paradise that often tempts young travellers to dedicate a year (or their life) to exploring the mountains and rainforests, beaches and valleys of this beautiful continent. If stepping into a truly different life for a year sounds appealing, then a gap year in South America may just be for you.
The Geography of South America
South America is the world's fourth largest continent, covering over 3% of the Earth's surface. While it remains controversial whether or not to include Panama in South America, other countries on this continent include:
Argentina
Bolivia
Brazil
Chile
Columbia
Ecuador
French Guiana (France)
Guyana
Paraguay
Peru
Suriname
Uruguay
Venezuela
Wide climate variations exist across South America, so pack as if you will experience them all! Bed nets, sun protection, bug spray, sturdy walking shoes, boots, and/or sandals, raincoat or all-weather coat, hat, gloves and scarf, layers of clothing and swimsuits should see you prepared for anything.
When you're sufficiently kitted out, make sure to investigate travel vaccinations such as for hepatitis A & B, rabies, typhoid, yellow fever, boosters for tetanus and measles, and anti-malarial tablets. Travel insurance is a must and picking up some travel and medical insurance claims forms is a good idea, just in case the worst happens. Make sure you pack your regular medication if you take any. Any visas should be dealt with before you leave, do this early so that your trip is not delayed because your visa has not arrived. It is always a good idea to keep track of the local news in the areas you plan to visit.
South America is a fantastically cheap place to be a youth traveller. To make sure you get the savings you deserve, investigate:
International Student Identity Card (ISIC) - must be a student.
International Youth Travel Card (IYTC) - must be under 26 years of age.
Youth Hostel Association - cheapest if you are under 26 years of age.
A South American Itinerary
An itinerary is a great way to organise your thoughts and create an efficient travel plan. Itineraries are also useful to leave with family and friends, and to register with the Embassies and High Commissions in your host countries in case of emergencies.
When planning your itinerary for South America consider visiting places such as; Machu Picchu in Cusco, Peru, sunbathing at the Copacabana in Rio de Janeiro, Brazil, stopping to smell the flowers at the Jardin Botanico in Caracas, Venezuela, taking in the views at the Parque Nacional Sierra Nevada in Merida, Venezuela, Museo Nacional de Bellas Artes in Santiago, Chile, explore the mountains of Patagonia in Argentina and Chile, a feel the Pampas grass in Argentina, Uruguay or Brazil.
Another way to experience South America is to work, study or volunteer as part of a structured programme during your gap year.
South American Safety
Areas of South America are renowned for their crime rates, so be sure to leave all valuables at home. Do not wear jewellery, leave electronics in a hotel or hostel safe, keep your purse/wallet on your person at all times, and wear generic rather than name-brand clothes.
Women travelling alone should invest in a cheap "wedding ring" to avoid unwanted attention. Guard digital or expensive cameras, and never bring a handbag or backpack to the beach. If the worst does happen, keep your head and file a report with local authorities immediately.
You might also like...