Travelling Around Europe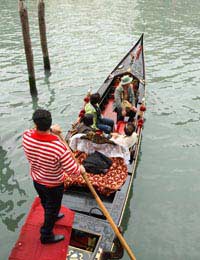 From the Grand Tours of yesteryear to the budget gap years of today, Europe has always been a particularly enchanting destination for young travellers. Carrying just a rail ticket and a backpack, anyone can take in dozens of cultures, languages, ethnic food and drink, and historical and geographic landmark with relative ease. Whether you are interested in working or volunteering, fine food or flea markets, mountains or murals, Europe has it all!
The Geography of Europe
Europe is the second smallest of the seven continents, though it contains almost 11% of the world's population. Which countries are included in Europe is always up for discussion, but whether you want to follow UEFA, Eurovision or even European Union standards, most would agree that Europe includes:
United Kingdom, Republic of Ireland, France, Spain, Portugal, Austria, Belgium, Germany, Liechtenstein, Luxembourg, Monaco, The Netherlands, Switzerland, Italy, Vatican City, Greece, Sweden, Norway, Finland, Denmark, Bulgaria, The Czech Republic, Hungary, Moldova, Poland.
Romania, Slovakia, Estonia, Latvia, Lithuania, Albania, Andorra, Bosnia and Herzegovina, Croatia, Macedonia, Malta, Serbia and Montenegro, Slovenia.
Prepare for an Adventure
The climates across Europe vary considerably, so it is best to keep in mind that you could meet almost any temperatures or weather conditions during your gap year. In traditional fashion, summers tend to be hot and winters cold, but these can be relative terms across Europe! To prepare for your travels, invest in: Sturdy walking shoes, boots, and/or sandals, raincoat or all-weather coat, hat and gloves, layers of clothing, swimsuits and a comfortable backpack.
Once you are ready to physically brave the elements, you'll realise that Europe is a fantastic region in which to be a youth traveller. Backpackers are a common site, and discounts abound for those in the know. Rail and bus companies often offer considerable discounts with the right cards and memberships, as do hostels and many tourist attractions. To make sure you get the savings you deserve, investigate:
International Student Identity Card (ISIC) - must be a student.
International Youth Travel Card (IYTC) - must be under 26 years of age.
Inter-Rail Pass - cheapest if you are under 26 years of age.
EuroDomino Youth Pass - must be under 25 years of age.
Youth Hostel Association - cheapest if you are under 26 years of age.
When you have got all of your supplies packed, there are just a few items left to deal with. Before you travel, make sure to:
Arrange for the travel vaccinations recommended by your GP or local clinic.
Register for travel insurance.
Obtain travel and medical insurance claims forms.
Fill needed prescriptions.
Apply for visas.
Check with the Foreign and Commonwealth Office for travel advisories.
Keep abreast of local news in the areas you plan to visit.
Create an Unforgettable Itinerary
An itinerary is a great way to organise your thoughts and create an efficient travel plan. Itineraries are also useful to leave with family and friends, and to register with the Embassies and High Commissions in your host countries in case of emergencies. If you are planning a gap year in Europe, then consider:
Big Ben, Parliament, Buckingham Palace and the Tower of London in London.
The Scottish Highlands.
A stop in an Irish pub or farmhouse.
The Eiffel Tower, Musee de Louvre and Musee d'Orsay in Paris.
Running with the bulls in Pamplona.
Enjoying a gastronomical tour of Italy.
Visiting the Acropolis, Parthenon, Hadrian's Arch and the Temple of Zeus in Athens.
A day on the Croatian coast.
A wander through the tulips and canals of Amsterdam.
The Old Town of Warsaw.
German, Austrian or Swiss Christmas markets.
Prague Castle and St. Nicholas Church, Prague.
Another way to experience Europe is to work, study or volunteer during your gap year. If this is of interest to you, be sure to check out:
Gap Work
Find a Gap
Gap Year Directory
Staying Safe in Europe
Europe as a whole is not a particularly dangerous region for gap year travellers, but it is best to be on guard. Keep your valuables locked at your hotel or hostel and keep your wallet/purse on your person at all times. Never watch bags or carry items for strangers and alert authorities to suspicious behaviour. Avoid deserted areas, but be alert in crowds, particularly in airports, train stations or bus depots where pickpockets roam. Remember, your only irreplaceable items are your memories, and those will always be safe! Bon Voyage!
You might also like...