Travelling to Africa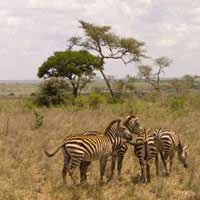 Africa is an adventure traveller's dream. Safari parks, beaches, and mountains offer a chance to get closer to nature and wildlife, a variety of volunteer programmes offer the chance to help others, and the vast continent opens up opportunities to experience many cultures in a short amount of time. If you want your gap year to be the year of your dreams, consider a trip to Africa!
African Geography
Africa is the world's second largest continent, both in terms of physical size and the size of its population. Africa is surrounded by water - the Mediterranean Sea, the Suez Canal, the Red Sea, the Indian Ocean, and the Atlantic Ocean - and is cut in half by the Equator. 54 countries make up Africa, and well over 1,000 languages are represented across the continent.
Prepare for an Adventure
Africa is a large continent, and as it spans both sides of the Equator it is comprised of many distinct climate zones, from tropical to subarctic. In the north of Africa the land is primarily desert, mid-Africa contains steppes and the southern parts of Africa contain both plains and jungles.
Packing for a trip around Africa can be a challenge, but the rule of thumb to follow is to prepare for all eventualities. While packing you should include items such as; sturdy walking shoes, boots, and/or sandals, raincoat, hat, for rain and sun, layers of clothing, including trousers and a sweater, in light colours to reflect the sun and of course a comfortable backpack.
But don't just pack your bags and run out the door! Before you leave for Africa, be sure to investigate:
Travel vaccinations such as for hepatitis A & B, meningitis, rabies, typhoid, boosters for tetanus and measles, and anti-malarial tablets.
Travel insurance.
Travel and medical insurance claims forms.
Needed prescriptions.
Visas.
Travel advisories from the Foreign and Commonwealth Office.
It is often advised that no British citizen travel to the Ivory Coast or Somalia, and that non-essential travel be curtailed in the Central African Republic, the Democratic Republic of Congo, and Liberia. Travel in parts of Angola, Burundi, Chad, Congo, Eritrea, Ethiopia, Libya, Mali, Niger, Nigeria, Rwanda, the Sudan, Uganda and Zambia may be advised against as well.
There is always a risk of terrorism throughout the world, and Westerners should understand that they may be at risk so it a good idea to check the local news in the areas you plan to visit. Civil unrest may spread quickly throughout African nations so always be aware of potential political threats while travelling.
There have been outbreaks of Avian Flu in Burkina Faso, Cameroon, the Ivory Coast, Niger, Nigeria and the Sudan so travellers are advised to avoid live animal markets and ensure that their poultry dishes are cooked appropriately.
Africa can be a cheap place to travel, and youth travellers may be treated to even further discounts if they hold an:
International Student Identity Card (ISIC) - must be a student.
International Youth Travel Card (IYTC) - must be under 26 years of age.
Youth Hostel Association - cheapest if you are under 26 years of age.
Create an Unforgettable Itinerary
An itinerary is a great way to organise your thoughts and create an efficient travel plan. Itineraries are also useful to leave with family and friends, and to register with the Embassies and High Commissions in case of emergencies. If you are planning a gap year to Africa, make sure you do your research before you leave and make sure your itinerary includes fantastic adventures.
Why not try a trip down the River Nile or a visit to the Omo and Nago National Parks in Ethiopia. The Fossil Hominid sites of Sterkfontein, Swartkrans, and Kromdraai near Gauteng, South Africa are also one to be added to the list as is the Vredefort Drome, the oldest meteor impact site in the world, southwest of Johannesburg, South Africa.
Scuba diving at the Mombasa Marine Park and Natural Reserve in Kenya will show you an Africa that most travellers don't get to see. Don't forget to visit Victoria Falls and the Hwange National Park in Zimbabwe and if you fancy a bit of culture take a trip to the Karen Blixen (author of 'Out of Africa') museum in Nairobi, Kenya.
Another way to experience Africa is to work, study or volunteer as part of a structured programme during your gap year. If this interests you, be sure to check out:
Enkosini Eco Experience
Travellers Worldwide
African Conservation Experience
Gap Work
Safety in Africa
Due to current, worldwide political climates, travellers to Africa should always be on guard. Keep your valuables locked at your hotel or hostel, leave jewellery and other easily stolen items at home, and keep your wallet/camera/passport on your person at all times.
Register your itinerary with the Embassy or High Commission in each country you visit, and check in with family and friends at home at regular intervals.
Never watch bags or carry items for strangers, alert authorities to suspicious behaviour, and never travel alone to secluded outposts. Keep up with local news, and avoid expressing inflammatory political opinions in public. If the worst does happen, keep calm and file a report with local authorities immediately. Good luck and have fun!
You might also like...