What to do When Socialising Alone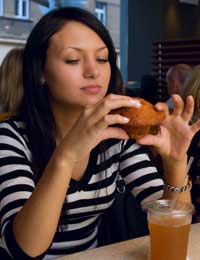 As any gapper past or present will tell you heading out alone to find a few new adventures is part of the fun of a year spent without the constraints of education or employment. Whether it's a single solitary hike or a year of complicated journeying alone, time spent without family and friends is often what appeals to intrepid travellers.
Unfortunately, travelling alone can be downright dangerous and while many young people realise this and take the necessary precautions during most of their trips, they may throw caution to the winds and figure that they are perfectly safe if they're just heading out for a quick dinner by themselves or an evening to make new friends. A quick rule of thumb for young travellers: never let your guard down, particularly not when socialising alone.
Stay Sober
Probably the best piece of advice for young people trying to stay safe while socialising alone is to stay sober. When alcohol or drugs are introduced into the equation many people find both their inhibitions lowered and their thinking confused. Not only does this lead to some inappropriate choices but it can also lead to a lack of physical coordination. Imagine being stranded in a place you don't know, being unable to think clearly and not even being able to walk in a straight line. Frightening? It should be!
If you are intent on socialising with alcohol, do your best to limit the number of alcohol units you drink (try to alternate one alcoholic drink with one glass of water) and eat food before and during your evening out. Avoid getting into a situation where you are involved in buying rounds of drinks with new acquaintances as this may make you drink more, and more quickly, than you would otherwise.
Keep all drinks – alcoholic or not - to yourself at all times as well so you will be more likely to know if someone has drugged or otherwise tampered with them. If at all possible also try to stay near your accommodation so that you will not find yourself stranded in a foreign location, inebriated, and with no idea of how to get back to safety.
Tell Someone of Your Plans
When you are travelling alone, it can be hard to keep people appraised of your whereabouts and the same goes for when you are socialising alone. However, should the worst happen and investigators need to be involved, it will help immeasurably if someone knows where you were headed and when.
Consider telling other travellers at your hostel ("I'm thinking of hitting the tapas bar in the village."), sending a text or email to someone back home ("Going to check out the cafes in the town square!") asking someone at the front desk about locations ("I'm thinking of visiting the restaurant on the beach, is it any good?") or even leaving a quick note in your backpack or room ("Off to the Internet café!" Don't be embarrassed – no one else needs to know for whom or why you've left it.
Try to Blend In
Take a good look around at the people in your new location and get a feel for the local look. If you are a female in a very conservative area, for example, it would probably be best to avoid drawing attention to yourself with a belly-baring tank. Also observe the general level of wealth in your location. In an area where local wages are low, flashing cash, electronics or jewellery could very easily make you a mark for mugging or theft. Even if items are cheap imitations they can be mistaken for the real things.
Whatever you do bring out with you, keep a close eye on. Keep all purses/wallets in your front pockets, sling bags across your body and loop the handles of any bag around your ankles when you are seated. It might seem like overkill, but if anyone tries to make off with your stuff you'll certainly know about it.
Keep your common sense about you if you are planning to socialise alone during your gap year. Input local emergency numbers as well as the numbers of your accommodation and your nearest embassy or consulate into your mobile phone. Hopefully you'll never need to use them, but it's better to have them and ignore them than not have them when you need them. Also avoid wandering down darkened roads or alleys, going home with or inviting strangers back to your accommodation, and/or accepting packages or envelopes from strangers. In general, if you have reservations about something just don't do it. Remember, it's better to be safe than sorry and this is especially true if you are alone in a foreign location.
You might also like...