Safety For Female Travellers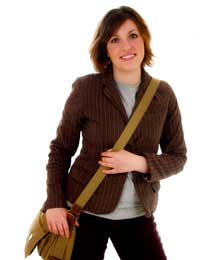 Unfortunately, female travellers face special concerns during their journeys. From travel safety to hotel/hostel safety to personal safety and dress, being a female traveller requires a lot of attention and an eye for detail. If you are a young woman about to embark on gap year travels, don't let these concerns put you off. These safety tips will help you plan for the best trip of your life, and the safest!
Travel Safety
Many women forget that a great amount of information about themselves is transmitted during travel on planes and trains. Keep yourself safe by:
Using covered luggage tags and writing your office, not home, address.
Printing out your reservations so important information is not spoken aloud.
Speaking quietly during check in.
Keeping your handbag on your person throughout check in procedures.
Requesting an aisle seat so that you are never "trapped" during your travels.
Ensuring that your valuables are kept on your person if you are planning to sleep.
Always carrying your valuables with you to the bathroom or snack areas.
Looping your bags around your legs if you are going to eat or sleep.
Hostel/Hotel Safety
As the one place you should be able to let your guard down, make sure that your hostel or hotel is clean and safe. If this means spending a little more to get into the "right" part of town, do so. Your peace of mind is worth it.
Look for a small hotel/hostel where the staff will recognise their guests.
Make sure no one overhears your room number during check in.
Request a room near the central lifts, not the end of a hallway.
Check all doors and windows for appropriate locks.
Request female only rooms in hostels.
If provided, use a safe to store your valuables.
Personal Safety
Women can be the recipients of many unwanted advances and even physical contact during their travels, particularly if they are travelling alone. Many people still subscribe to a stereotype that solo female travellers are "asking for it" by not travelling with a protector. Others unwisely believe that women up for the adventure of travelling are up for anything. While you can't change others' minds, you can take steps to protect yourself.
Carry a light and whistle/alarm at all times.
Consider wearing a fake wedding ring.
Avoid eye contact with men.
Wear comfortable shoes that you can run in, if need be.
Avoid deserted or dimly lit areas of town.
Carry your bags across or in front of your body in crowded areas.
Use your assets - sew a small money slot into your bra.
Wear a money belt.
Leave expensive jewellery and designer clothes at home.
Ask for your drinks to be served in unopened bottles and cans.
Rest your hand over the top of your opened drink containers.
Do not accept drinks from strangers.
Use only registered taxis and public buses.
Try to hold a bar across from you, not above you, on public transportation.
Investigate reservations on transport so that you need not stand in a crowd.
Take advantage of female only carriages.
If you find yourself the victim of an unwanted advance, make some noise.
Observe local women and do as they do - and do not do.
Dress the Part
Regardless of your usual fashion sense, as a women travelling in different cultures, be respectful of local customs.
Upper arms should always be covered in India.
Thighs should be covered in the Pacific Islands.
As much of the body as possible should be covered in Muslim nations.
Hair should be covered by a scarf or hat in Muslim nations.
Keep cleavage covered at all times.
Slip-on shoes are helpful in areas where it is customary to go barefoot inside.
Many religious sites require female bodies and heads to be covered.
If you feel that you still stick out, ask a local woman to take you shopping!
While there is a lot to think about for women travellers, none of it should get in the way of a great trip. Have fun, stay safe, and enjoy!
You might also like...