Essential Equipment For Your Travels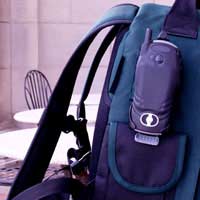 Regardless of the activities in which you may be participating, certain items are considered gap year essentials. These handy checklists will help you pack your bag with minimum fuss, but with equipment that will allow you to make maximum impact!
Essential Clothing
Packing for a gap year doesn't really depend on where in the world you are travelling because it is always best to pack for any weather eventuality. Visiting a tropical climate? Just wait until you get drenched by a monsoon! Desert heat by day? Desert cold by night!
When you're packing your bags, make sure to include: T-shirts and long-sleeved t-shirts for layering, trousers, shorts, sweaters, enough underwear and socks for a week (cotton is easy to wash, lycra is easy to dry), sports bras, boots, sandals/flip-flops, long underwear, vests, a raincoat and a hat to shield sun and rain.
Essential Accessories
All valuable jewellery and hair accessories (hair dryers, hair straighteners, etc.) should be left at home because a gap year is anything but a fashion show! There are, however, some accessories that will make your gap year infinitely more enjoyable, including a backpack or rucksack, purchase the best you can afford because you will be wearing it everyday. You will need sunglasses - a sporty design will withstand constant activity.
A sleeping bag, sleeping mat, mosquito netting, insect repellent and sunscreen are vitual things any gapper should have with them during thier gap year. Water purification tablets or a system can be purchased before you leave, for use in countries were drinking the tap water is not adviseable.Finally don't forget the littele essentails such as; a travel alarm clock, a lock, a torch, a camera, a pen and a fake wedding ring for females.
Essential Health Care
There is nothing worse than being sick during a gap year abroad, but with the right medical kit in your luggage you should make it through in more comfort than you would otherwise. Prepare for most minor medical events by packing:
Plasters and gauze.
Pain relievers, anti-inflammatories and aspirin.
Decongestants.
Antacids.
Wound and blister ointments.
Cough medicine.
Anti-diarrheal medicine.
Motion-sickness medication.
Tissues.
Digital thermometer.
Tweezers.
Safety pins.
Scissors.
Personal prescription medicines.
Essential Personal Care
While it would be great to transport your whole bathroom, gap year travel calls for a pared down personal care routine. Bring only the essentials, such as shampoo and conditioner, soap, toothbrush and toothpaste, tampons, dental floss, toilet paper, brush/comband deodorant/antiperspirant.
Essential Travel Documents
Of course you won't be going very far if you've got your bags packed but no travel accessories. To make sure you make it out the door, round up:
Airline tickets.
Passport.
Visas.
Photo ID.
Accommodation bookings.
Travel guide.
Traveller's cheques, foreign currency, bank cards, credit cards.
Every gap year packing list will have its own needs, but for the most part these checklists will help you plan for whatever type of gap year you will be enjoying. If you are joining an organised gap year programme, check their specific advice sheets for more tips on what to bring with you. Remember to leave a little room in your luggage for treasures you pick up along the way, and always check with your airline about their luggage requirements. Bon voyage!
You might also like...