What Not to Pack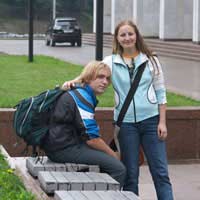 Couldn't we all use an inner Trinny or Susanna to make sure everything we pack is affordable yet flattering, practical yet chic? Unfortunately, this is just a pipe dream as we all have to go our packing alone. Obviously you'll want to be prepared for any eventuality, but you'll also want to keep your luggage manageable, affordable and safe.
So what's a gap year traveller to do when it comes to weeding out items to leave at home? Follow these handy checklists, of course! What you leave at home is just as important as what you bring with you, so use these lists to help you decide once and for all what to cut out and what to include.
Non Essential Clothing
Some clothing will serve you better at home than it will in your gap year backpack. When you begin to pack, put aside:
Designer clothing.
Clothing embellished with expletives or inappropriate images.
Fashion footwear and high heels.
Synthetic socks that will make your feet sweat and possibly breed fungus.
Brand new shoes that will result in blisters.
Short shorts and miniskirts.
Overly revealing tops.
Dark coloured summer clothing. Choose light colours to reflect the sun.
Outerwear with labels that may attract a following.
Anything that you feel is irreplaceable.
Non Essential Accessories
While you are busy putting back your non essential clothes, pull out your non essential accessories as well. Accessories are often small and easily stolen, so don't pack anything that you would be afraid to lose. A few items best left at home include:
Expensive jewellery.
Designer handbags.
Sunglasses with large labels.
Laptop computers.
New, top-of-the-range iPods/mp3 players.
New, top-of-the-range mobile phones.
Hair dryers.
Hair straighteners.
Non Essential Health Care
Packing a medical kit is important, but some health care items are better accessed via the medical system in your host country. Do not pack:
Prescription medication that is not in your own name.
Illegal amounts of prescription medication, even if it is in your name.
Suspicious amounts of over-the-counter medication. Limit yourself to two packets.
Illegal drugs.
Heating pads that require an adapter.
Cool packs that require freezing.
Any medication that is, or will pass, its use-by date during your travels.
Non Essential Personal Care
Thankfully a gap year trip is not a beauty competition, because packing personal care items requires great restraint. Keep your personal care routine to a minimum, and don't bother packing:
Perfume or aftershave.
Scented body lotions or sprays that may attract insects or even wildlife.
Expensive hair accessories.
Hair care "extras" such as hairspray, gel, etc.
Economy sized items (shampoo, conditioner) that can easily be replaced abroad.
Makeup.
Packing for a gap year may initially seem daunting, but these checklists are a handy reminder that you shouldn't be bringing your whole life with you! A gap year is your chance to see the world, discover yourself, and find out exactly what you need to survive. No doubt you'll be surprised by how well you can get by with so few possessions!
You might also like...
As is often said: "When packing for a trip, sell half your stuff and take twice the money".
Nick Smith
- 12-Apr-12 @ 11:20 PM