Organising and Planning Your Gap Year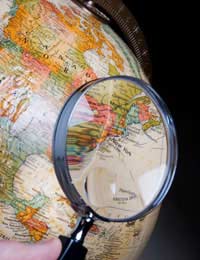 Deciding to take a gap year is a big step, but actually organising a gap year is even bigger. Many organisations and websites exist to help you plan your perfect gap year, but unfortunately none of them can actually do the work for you. Instead, you need to sit down, do the research and make the decisions that will lead to the year you'll never forget.
Prepare a Budget
A large part of planning for and organising your gap year will depend upon your budget. Before settling on any particular trip or itinerary, consider the money you have available. Remember this money has to pay for: Air travel, ground travel, including trains, buses and private taxis, clothes and specialised equipment for your journey, food, accommodation, specialised work or voluntary programmes, travel and medical insurance, admission to tours and sites and Internet access and telephone calls.
Draw Up Interest Lists
In addition to preparing a budget, preparing a list of your interests or goals for your gap year will be invaluable to organising your trip. Think about the places you would like to travel and the sites you would like to see and make sure that you incorporate these activities into your itinerary. A gap year is also a good time to improve on certain skills and overcome challenges.
If you would like yo do any voluntary work or explore some educational or work experience investigate these before you leave and try and book on to any placements as these tend to fill up quickly.
Research, Research, Research
When you have an idea of the funds at your disposal and what you would like to get out of your gap year, begin to research your options. Investigate companies and websites that can help you plan your gap year and organisations that offer structured gap year programmes. If you do decide to go with a company like this be sure to check on exact terms and conditions.
Research the country and regions to which you will travel and check in with the Foreign & Commonwealth Office for travel advisories. Before you leave check on visas or other immigration paperwork that may be required for the countries you will visit. It is also a good idea to look into the cultural or religious mores of the areas you plan to visit, as they are not going to be the same as England and nor are the laws, so it is also advisable to check those too.
Obtaining travel insurance is a must before any trip but particularly if you are planning to be away for a year - take some insurance claims forms with you on your trip so you are prepared for the worst. Check with you GP about any immunisations and immunisation certificates you may need for the countries you will visit.
Other things you should do and look into before you travel include:
Notifying your bank and credit card companies of your travel plans
Look into how to defer a place at university or a serious job offer.
If you can obtain certification or recognition from skills and/or programmes completed during your gap year.
If you need to obtain a written evaluation or confirmation of your successful completion of your gap year programme.
Recommendations from seasoned travellers.
Recommendations from veteran gap year explorers.
Organising and planning a successful gap year takes time. Begin the process at least a year in advance to make sure that you have enough time to complete every item on your checklist. Begin broaching the subject with your parents, teachers and career counsellors even earlier so that you can tap them for ideas and enlist their help with your preparations. While organising and planning a gap year may make you want to tear your hair out at times, remain calm and you can be assured that your preparations will all be worth it in the end. Enjoy!
You might also like...